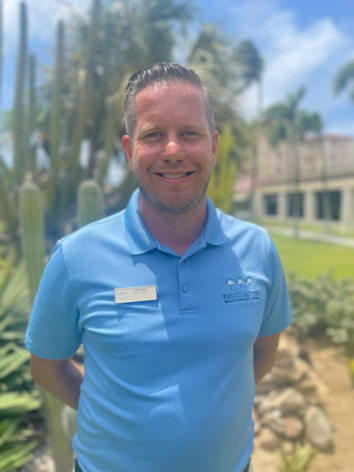 One of the newest additions to the Bucuti Associates team is Jeroen van Dasselaar, Sustainability & Certifications Manager. His arrival to the resort on Oct. 1, 2022, happened to also be the very first day of the resort's latest recertification for Green Globe Platinum. When it comes to jumping right in, this is exactly what Jeroen had to do at the Caribbean's first certified carbon-neutral hotel.
An early start to driving change
Well before Jeroen arrived at Bucuti & Tara, he served his home country, The Netherlands, as a member of its military. While most stay with one branch, Jeroen's journey ultimately led him to serving in three different branches by the time he retired his uniform.
Jeroen began his military career in the Army in an artillery unit. He earned promotions and also served a deployment to Bosnia. He transferred to the Air force where he became an F16 mechanic. In that role, he was deployed to Afghanistan where he worked closely with American, Canadian and British troops. Rounding out his military service, he transferred to the Navy as an engineering officer. He sailed with the HNLMS van Amstel throughout the Caribbean and to support anti-drug and Coast Guard operations and also sailed similarly on the Mediterranean to prevent human trafficking from Turkey to the EU.
Jeroen earned his MBO in Electrical Engineering at Friese Poort in The Netherlands. He earned a Bachelor of Electrical Engineering from Hanzehogeschool, the largest technical & vocational university in the northern Netherlands. Upon graduation, he began Navy Officer Training with the Royal Netherlands Navy Institute (KIM). In 2009, Jeroen was the Dutch Military Rifle Shooting Champion.
Throughout the military as Jeroen's work included responsibility for logistics and engineering, the constant draw on energy and excessive utility bills captured his attention. Specifically, when he was serving at a Marinierskazerne Savaneta in Aruba (the Marine Corps) he questioned why air-conditioning was on all day and all night, he was simply told that was the way it is. Not one to settle for the status quo, Jeroen set off to source programmable thermostats and smart monitors. Within one year, energy consumption of air-conditioning decreased by 60% and the utility bill decreased by €200,000 annually.
Jeroen continued building that sustainability success. Next, he secured €1,500,000 from another military project and applied it to solar panels for the base. He also brought in the installation's first EV cars and charges, among the first on the island. As a nod to Jeroen's commitment, Marinierskazerne Savaneta honored his work by naming a tiny forest project Park van Dasselaar.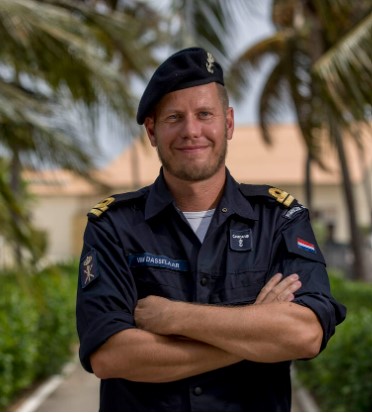 A passion for making a difference continues
After 23 years in the service, Jerone transitioned to the civilian sector. He joined a Caribbean solar company as the chief of operations. While volunteering at Ban Lanta y Planta, the reforestation nonprofit organization Bucuti & Tara supports, Jeroen met the resort's Owner/CEO Ewald Biemans. Inspired by Ewald's vision and success at the resort, and a shared vision for stewardship of the planet, Jeroen soon found himself carving a new path in his career path as the Sustainability & Certifications Manager at Bucuti & Tara.
While his uniform these days is resort casual, his new regimen of meticulous planning and ensuring a carbon-negative, guilt-free vacation for guests is Jeroen's new regiment. A major part of Jeroen's role includes keeping all Bucuti Associates informed, motivated and compliant to the eco-certifications and processes. He helps lead the resort's Green Team.
Perhaps his early years as a top ranked youth chess champion of The Netherlands foreshadowed his future in his current role with the game's seven fundamentals: visualization, calculation, tactics, evaluation/analysis, strategy, openings and endgames.
The importance of the Sustainability & Certifications Manager position
"If you pay attention to something, it will grow," shares Jeroen about the resort's carefully tended sustainability program. He cherishes getting to spend his days at Aruba's top hotel while working specifically on sustainability, noting how this sets Bucuti & Tara apart.
Jeroen shares that in most other properties and organizations, sustainability is an add-on task for a manager who is already busy with primary tasks that overshadow sustainability. He credits Bucuti & Tara's Owner/CEO Ewald Biemans for having a dedicated Sustainability & Certifications Manager on-staff full-time since 2014. This allows an experienced, skilled staff member to completely prioritize sustainability initiatives and improvements. Strategically, having the position allows for 24/7 oversight of the resort's overall program, the only one at a hotel in the world that the United Nations revered as "highly replicable and scalable" for all hotels to follow when it awarded Bucuti & Tara with the Global UN Climate Action Award.
Jeroen shares that a major focus for 2023 is to continue reducing energy consumption as it is 75% of the resort's CO2 footprint.
Beyond Bucuti
Outside of the resort, Jeroen and his girlfriend Chantal, a property manager, stay busy raising two young children, Vinz and Lars. Aruba is their home. Jeroen is a proud board member of Foundation Ban Lanta y Planta, or Trees for Aruba, committed to regreening Aruba with indigenous plants and trees. He enjoys beach tennis, gardening, kite surfing, or simply relaxing by the pool or at the beach with family and friends.