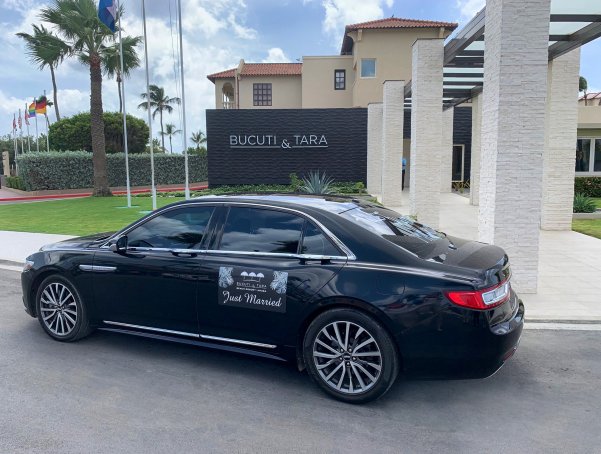 We are keeping the spotlight on our honeymooners long after their wedding reception send off from family and friends by offering to roll out the red carpet right to the jetway to greet Bucuti & Tara honeymooners.
We enthusiastically introduce the new Honeymoon Like a Celebrity service, whereby our newlyweds have the option to receive A-list treatment from wheels down to wheels up. From the moment honeymooners don their sunglasses and step off the plane upon arrival to our One Happy Island, they are met at the jetway by their personal assistant. Whisked away to a private lounge and welcomed with Champagne, their greeter gathers their luggage. After the refresher, newlyweds are escorted to the front of the immigration and customs checkpoint, then quickly met curbside by their private luxury sedan decorated with "Just Married" signage for the five-mile ride to Bucuti & Tara.
Honeymoon like a Celebrity is our newest enhancement to our widely heralded honeymoon experience. Inspired by our Owner and CEO Ewald Biemans, we recently introduced this service "to allow guests to elevate their overall experience for those once-in-a-lifetime romantic adventures such as a honeymoon, milestone anniversary or engagement trip."
With the new VIP airport service, when it's time to depart Aruba, our couples can maximize their time last day at Bucuti & Tara. Private car service followed by expedited check-in, security, and immigration and customs lets couples minimize their time at the airport. While there, they do enjoy private lounge service to relax prior to boarding. Curated honeymoons, unbridled romance
The new VIP arrival and departure service is just the beginning of a couple's custom experience organized well before landing. Prior to their Aruba arrival, couples work with one of our personal romance concierge's to plan their dream celebration.
The romance concierge will organize any level of planning
from VIP airport service to a full itinerary of daily activities, reservations and island insider tips. This invaluable time saver lets couples focus on one another and truly absorb the experience rather than lose precious time trying to plan by themselves on-island.

Continuing the VIP treatment, couples are met the resort's entrance by the very romance concierge they've been working with to plan their dream vacation. Bucuti & Tara's romance concierges are available to all couples. From first time visitors to repeat guests, the romance concierges can help couples maximize their island experiences or plan for sheer relaxation, and even help plan surprises.
One of our concierge's favorite story is, "The most unusual and fun project was helping a guest plan his engagement. He organized an eight-step treasure hunt for his girlfriend with hidden notes in beautiful places around the island which ultimately brought them to our romantic dinner on the beach where the ring was resting in a small treasure chest on the table in their private cabana. I arranged for a photographer at his request, to follow them around secretly to record the hunt. I was so relieved when she said "YES" after all the work he went through."
To Honeymoon Like a Celebrity or to plan a romantic rendezvous, anniversary or engagement,
fill out this questionnaire
to deliver your preferences to start developing your tailor-made itinerary, made to order just for you, or email concierge@bucuti.com.