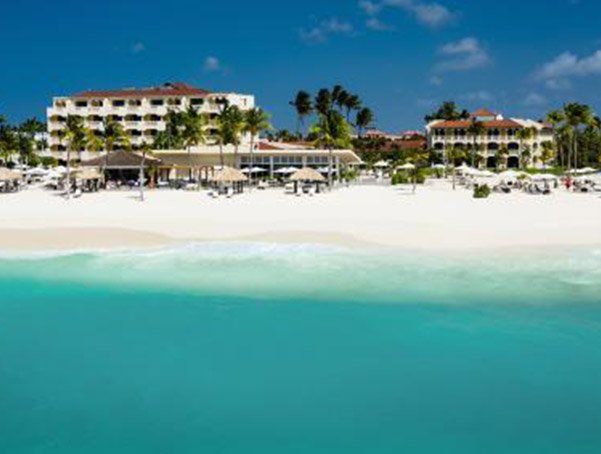 Bucuti & Tara Beach Resort, nestled on 14 acres of powder white sand offers secluded, breathtaking views of sparkling blue-green sea on Eagle Beach in Aruba. The acclaimed boutique style resort and its dream beach setting is perfect for couples and honeymooners seeking an eco-romantic destination in the Caribbean.
Bucuti & Tara Beach Resorts was recently re-certified by Green Globe, marking sixteen years of continual accreditation.
Ewald Biemans, noted environmentalist and owner of Bucuti & Tara Beach Resorts said, "Green certified standards, such as those provided by Green Globe, are valuable tools to measure and improve environmental impacts, which is imperative to developing environmentally-friendly habits, establishing benchmarks and achieving realistic expectations.
"The certification promotes consistent best practices and helps to guide our resort on our journey toward environmental and social sustainability, and more effectively cope with the impacts of climate change. We believe that a rewarding vacation and sustainable tourism can be mutually inclusive," added Mr Biemans.
The resort has focused on a number of environmental issues and improved water and energy management initiatives that will benefit the community at large.
Aruba's long battle with the overpopulation of dogs and cats has a new ally. Bucuti & Tara Beach Resort teamed up with all island veterinarians to help reduce the number of homeless dogs and cats in Aruba, and to make responsible pet ownership a reality. Introducing "Love me. Sterilize me" (Stimami, Sterilisami) this new community outreach provides island dogs ("crioyo") and cats with much needed spay and neutering surgeries thanks to generous subsidies provided in part from Bucuti. The program makes sterilization more affordable by significantly reducing the price of surgery for pet owners and organizations caring for homeless animals.
Pet owners and charity animal organizations can easily go to the program's dedicated website, stimamisterilisami.com, register each pet, select a veterinarian and schedule the procedure. The veterinarian charges them a nominal fee for the surgery and invoices Bucuti for the balance. In addition, Bucuti is also donating microchips that can be implanted into dogs during the operation.
In line with its water saving strategies, Bucuti recently pledged to be part of the Water Sense H20tel Challenge, a U.S. Environmental Protection Agency (EPA) initiative to track water efficiency using performance measures and reducing consumption. Bucuti is the only resort outside of North America participating as of late 2015. The elements of this program complement and broaden initiatives Bucuti has in place including the use of water efficient equipment (HAACP-approved faucets, toilets and shower heads) and the repurposing of gray or recaptured water.
Refillable water containers are another smart initiative at the resort. Upon arrival, each guest receives a reusable water canteen to eliminate the impact of waste and pollution caused by plastic bottles. Guests proudly tote the canteens throughout their stay, refilling them at the four on-property water fountains offering Aruba's clean, safe water. The resort is elated that guests consider the canteen a favorite vacation keepsake and choose to take their canteen home with them to continue their conservation efforts..
Blog written by Green Globe.