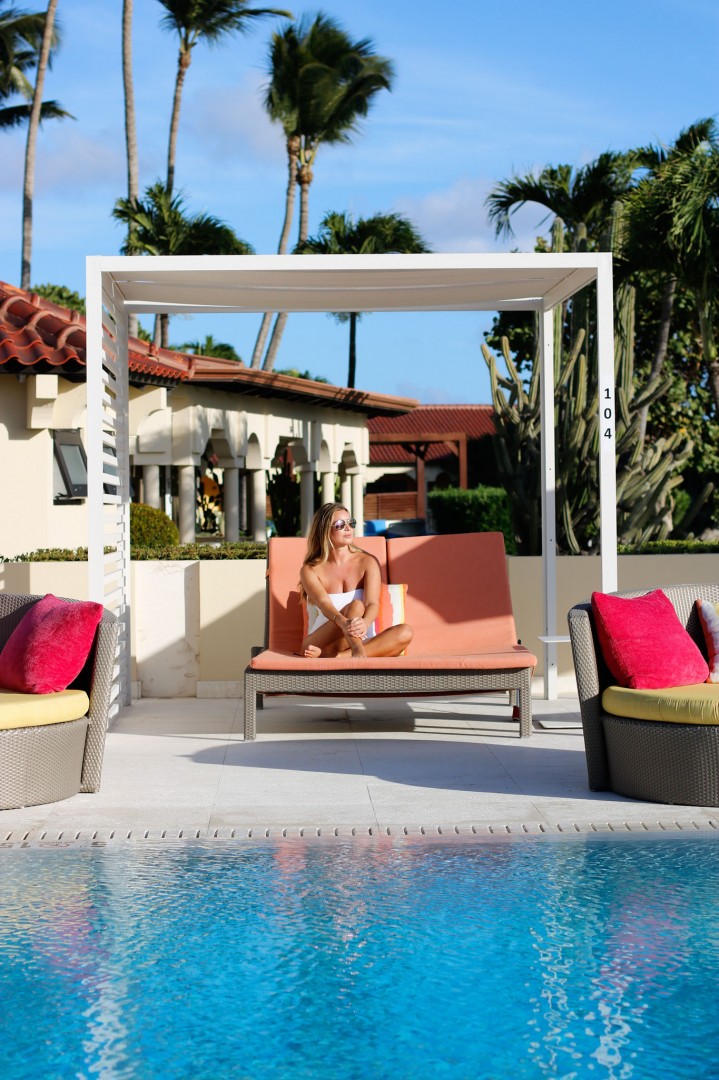 No need to wait until next summer to continue enjoying pool season. Journalist and Caribbean travel expert Melanie Reffes recently shared with USA TODAY readers "the top 10 coolest pools under the tropical sun." We're thrilled she included Bucuti & Tara's newly refreshed pool complex.
While our resort home on Eagle Beach, one of the "Dream Beaches of the World," is often associated with our signature white sand and crystal waters, it's just as nice to enjoy a dip in the pool. The infinity-edge pool and spa tub overlook our wide stretch of beach dotted with palms gently swaying with the ocean breeze.
Sink into cushioned loungers reflecting the warmth of Aruba's prismatic sunsets. With Aruba boasting among the most sunny days a year in the Caribbean, Teri D'amico of D'amico Design Associates (DADA) who collaborated on this new décor design, took inspiration from the sky's soothing morning palette and nightly light show.
"The new color scheme for Bucuti & Tara's SandBar and pool complex was inspired from the sky's burst of luminous golds at sunrise to its vibrant corals and rich purples seen in Aruba's romantic sunset," shares Teri. This past September, Teri was honored as an award finalist by Hospitality Design for her work with Bucuti & Tara.
Ready for a light bite or thirst quencher? Simply raise your lounger's red flag and let us come to you. Enjoy a wide selection of appetizers, snacks, cocktails, mocktails and smoothies. Popular cocktail sippers include coconutty Sand in the Pants, rum-laced Slippery Monkeys, and of course island favorite, Aruba Ariba. Stay hydrated with handcrafted mocktails including the Mango Mule and Strawberry Mojito. Replenish with nutrient-dense smoothies packed with fruits, vegetables, dairy and dairy alternatives, seeds, and powders. Save room nibbles like black truffle fries, bruschetta and more.
That laidback, carefree feeling of summer calls Bucuti & Tara home year-round. Come, take a dip.