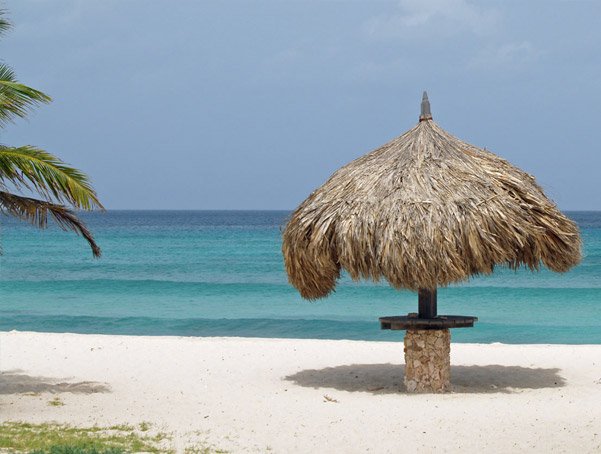 One of the aspects that has made Bucuti Beach Resort one of the most beloved resorts in Aruba has been its location on Eagle Beach, one of the Dream Beaches of the World. Couples who come here to celebrate their honeymoon, have a romantic vacation or exchange their vows have eternally enjoyed the peace and tranquility that our beach offers them during their stay. They have particularly loved having access to one of our many delightful palapas, which allows them to be near the ocean while enjoying great service from our staff for all their beach needs.
We have been very fortunate to be able to provide this amenity to our guests, but it is important to know that all beaches in Aruba are considered to be public beaches and are available for everyone's enjoyment. Unfortunately, the tourism boom on the island has brought about the mass construction of the palapas and has ignited a debate about whether or not properties can reserve them strictly for their guests given their location on what is considered to be public property.
While this will now inhibit Bucuti from being able to further build palapas on the public area of the beach or reserve them on behalf of our guests, the palapas will still operate on a first come, first-served basis, regardless of the person. In the event that one of our guests would like to designate a certain palapa for their use, our staff will be happy to hold it for them, but we encourage that they arrive early in the day to be able to guarantee their spot. Additionally, we have many other palapas that are located on the hotel property and are specifically designated for our guests' use only.
Please note that there will also be instances where we will experience occasional swells in the tides which will, on occasion, draw some youth to our beaches for surfing activities and we must welcome them as well. Other than this, Eagle Beach will not be experiencing any other significant activity as all necessary precautions to limit access of motorized water sports have been implemented. Additionally, buoys have been installed to ensure the safety and tranquility of all our guests during their stay.
As we are always concerned about our guest satisfaction, we thought it important to address these issues because we have noticed a lot of discussion online regarding the topic of public beach regulations in Aruba. We want to assure all of you that Bucuti is looking into alternative options for this that will satisfy our local regulations as well as not compromise the level of service and comfort that our guests have come to expect from our hotel and our staff.
Ewald K. Biemans
Owner & CEO