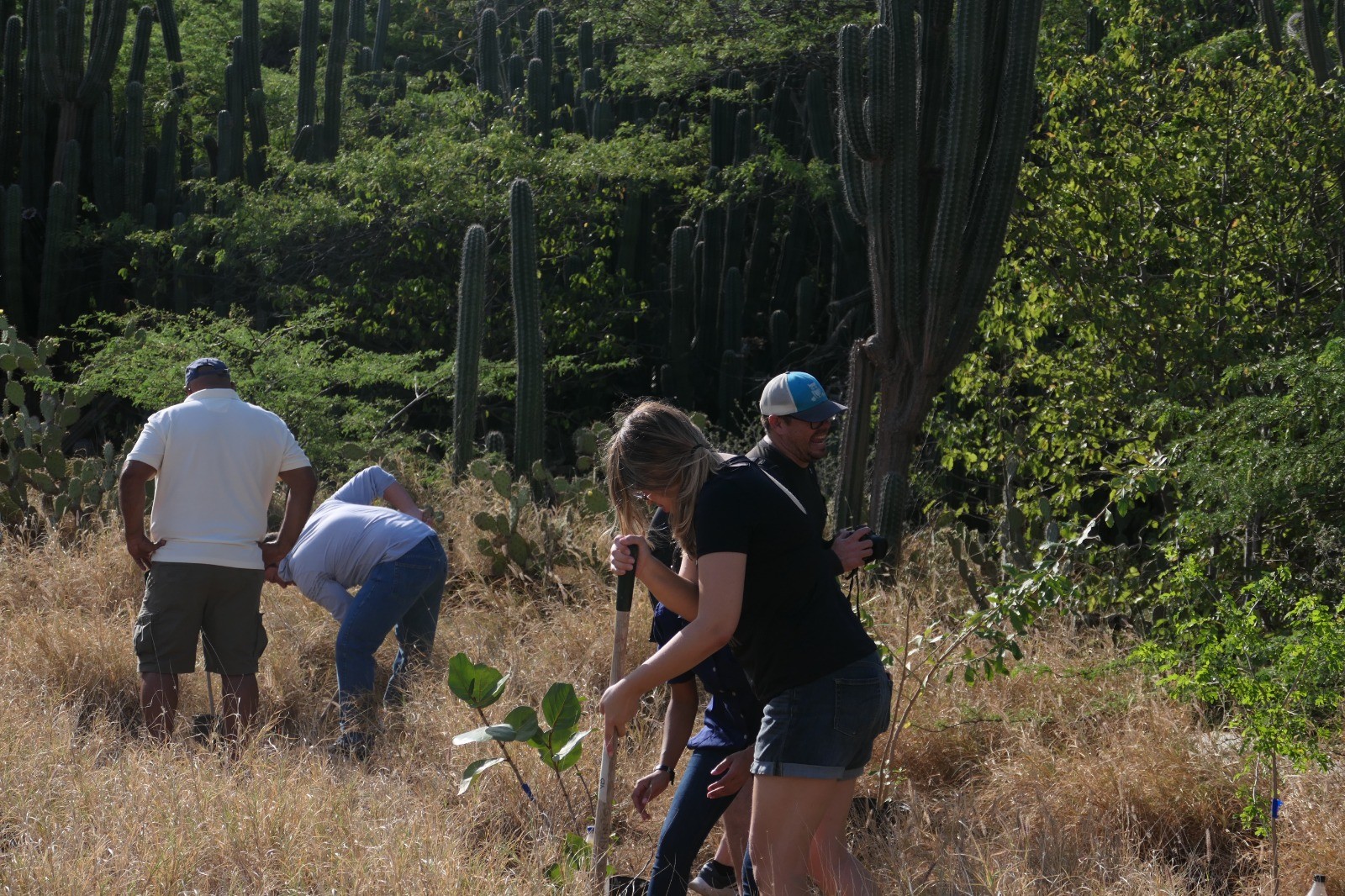 As you know, Bucuti & Tara Beach Resort in Aruba is committed to sustainable tourism and is the Caribbean's only certified carbon-neutral hotel. We just celebrated Earth Week 2023 with a week of initiatives that brought together our staff, guests, island leadership, community school children, and members to make a difference for the planet. We wanted to share the results with you.
The theme for Earth Day 2023 globally was #InvestInOurPlanet, and we were thrilled to take part in this international event. Our long-established sustainability program has been declared "highly replicable and scalable" by the United Nations, and we are proud to set an example for other hotels to follow.
Honorable Prime Minister Evelyn Wever-Croes participated in our beach clean up, inspiring and informing a nation
During the week, we hosted activities to raise awareness and invited guests to join us in protecting the planet. We had a beach clean-up with The Honorable Aruba's Prime Minister Evelyn Wever-Croes, sustainability partners from the Aruba Airport Authority and De Palm Tours' charitable arm, The Giving Palm, local school children and teachers, and our guests. Together, we collected 65 kgs of debris and litter along world-famous Eagle Beach. Our monthly beach clean-up events help keep the beach pristine and protect marine life, including the famously large Leatherback sea turtles who stretch up to seven ft. and weigh up to 1,500 lbs. Guests can even plan their visit around estimated hatchings by checking out Bucuti & Tara's Sea Turtle Nesting Calendar.
We also held a Recycled Crafts Contest where our employees used their imaginations to create beautiful works of art by recycling items from Bucuti & Tara and Aruba. Our guests served as judges, enthralled by their creativity, passion, and ingenuity. Three staff winners, one of each from Housekeeping, Concierge, and Reservations, wowed those gathered with their creations made from discarded power cords, three-dimensional butterflies cut from used plastic bottles and brought to life with hand painting, flip flops crafted with old newspapers, and art made from used straws.
54 Indigenous Trees Planted in the Bucuti-Tara-GMC Nature Preserve
On Earth Day, we commemorated the anniversary of our Bucuti-Tara-GMC Nature Preserve in Noord, Aruba by planting 54 indigenous trees in honor of the 54th anniversary of Earth Day. We were joined by resort associates, members of Ban Lanta y Planta (native Papiamento for Let's Rise Up and Plant), and representatives of Aruba organizations HCC Accountants & Tax Advisors, B-Energy solar solutions, Holistika Labs, and Fofoti Tours & Transfers. The preserve, which serves as the resort's carbon sink, is home to some of the island's 280 bird species, along with indigenous flora and other fauna. We're in Phase 1 of reforestation and hope to plant up to 1500 new trees this year and up to 20,000 new trees in the preserve eventually. The 54 newly planted trees for Earth Day 2023 will draw down 54 metric tons of CO2 from the atmosphere over the next 40 years.
To wrap up Earth Day, we invited our guests to snuggle on loungers on the beach for a special showing of the inspiring documentary A Life on Our Planet, featuring Journalist and Naturalist Sir David Attenborough. The film encouraged people to care for each other by caring for the planet.
At Bucuti & Tara, sustainability is woven throughout our culture and evident in every department. Beyond one day or one week a year, we follow the science and collaborate to protect the environment. Our goal is to become one of the world's first carbon-negative hotels.
We invite you to learn more about our initiatives and how you can join us in protecting the planet by visiting Bucuti.com.