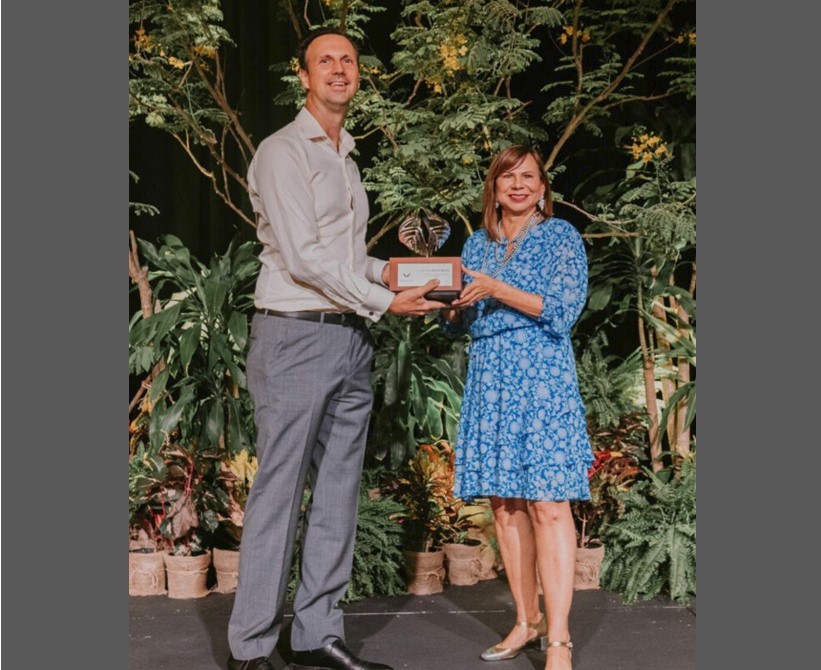 We are thrilled to announce that Bucuti & Tara Beach Resort, Aruba, has been awarded the first-ever AHATA Impact Award for Environmental Protection. The Aruba Hotel & Tourism Association (AHATA) created this awards program to recognize responsible companies that prioritize the investment in and improvement of Aruba's community.
An independent jury of five professionals reviewed 37 impressive submissions dedicated to creating a positive impact in the community. AHATA accepted detailed entries for its four pillars of sustainability: Environmental Protection, Charitable Investment, Champion for Culture, and Employee Well-being.
During the General Assembly of members, along with tourism industry executives and Aruba's Minister of Tourism and Public Health Dangui Oduber, AHATA President/CEO Tisa LaSorte presented us and the other winners with artwork by local artist Gilbert Senchi.
Our Resort Manager, Rik van der Berg spoke while receiving the award. On behalf of Bucuti & Tara, he shared: "our sustainability is a lot more than the planet, for us it is an all-encompassing structure of doing the right things for the right reasons."
In addition to this award, we are also excited to announce that we have become the newest member of Regenerative Travel. As a Regenerative Hotel, Bucuti & Tara represents a mission-driven, independent spirit; honors the sense of its home in Aruba; has a steadfast ethos of service and provides a vacation that meets values.
We are proud to be recognized as a pioneer in proving that memorable vacations and sustainability can be mutually inclusive. Thank you for your continued support.
Shown are Resort Manager Rik van der Berg and AHATA CEO, Tisa LaSorte