A Stylish Refresh and Renovation for the Bucuti Wing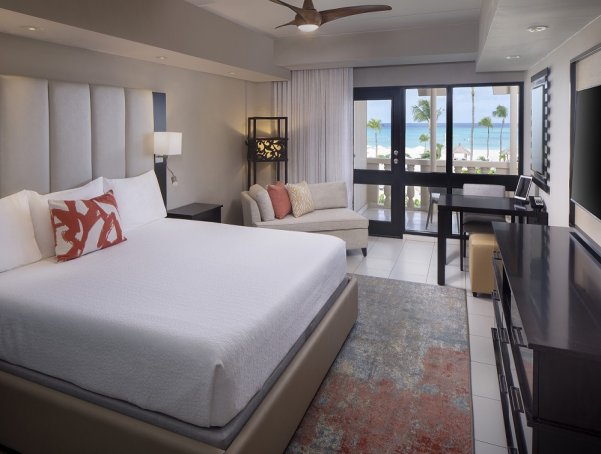 Following the upgrade of mattresses in the Bucuti wing this year to the plush, high-end Tempur-Pedic brand, we continue the upgrade with soothing new fabrics and select furniture to maintain our customary fresh and modern feel.A brightening and modernization of our hallways in the Bucuti Wing includes modern lighting, contemporary ceilings and new guestroom doors. The refreshed entrance ways are crafted from solid honey colored wood which lends a golden, sunny hue and welcoming spirit as you enter your guestroom.
Rich accent hues in celebration of our fiery Aruba sunsets enliven the crisp white bed covers and compliment the tropical greenery seen beyond the patio or balcony. Award-winning interior designers at DADA interior design of Miami took Bucuti & Tara's romantic ambiance and brought it to life with color and texture, which inspires and activates the senses.