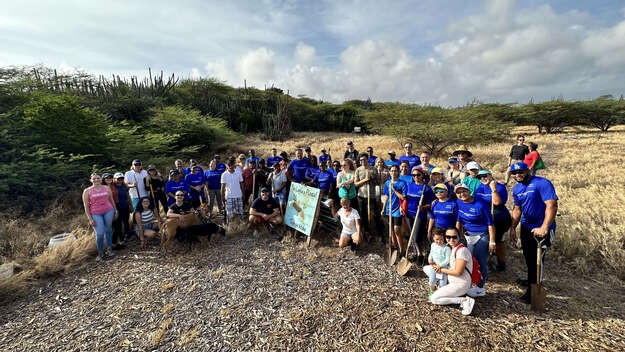 Today, April 22, is Earth Day 2023. This morning 30 of your favorite Bucuti Associates joined with guests, members of Ban Lanta y Planta, and representatives of Aruba organizations HCC Accountants & Tax Advisors, B-Energy solar solutions, Holistika Labs, and Fofoti Tours & Transfers at The Bucuti Tara - GMC Nature Preserve for a special tree planting ceremony honoring our shared planet. We thank all of these supporters for caring for our shared environment.
54th Earth Day
This year marks the 54th anniversary of Earth Day. Many years ago, the day was created to get people thinking about caring for the environment. Along the way, Earth Day picked up momentum, and the global movement now has many people thinking about their impact on the planet more than just one day a year.
At the Caribbean's first certified carbon-neutral hotel, everyday is dedicated to providing guests with the most fulfilling vacation experience. As one of the resort's newest sustainability initiatives, it recently debuted The Bucuti Tara - GMC Nature Preserve. Located in popular Noord, this special expanse of land is protected from development. In fact, the opposite of development is happening to it. The resort, Ban Lanta y Planta, which is native Papiamento for Let's Rise Up and Plant, and island friends are reforesting the 12 hectares or 30 acres of land.
In honor of the 54th anniversary of Earth Day, today's gathering of staff, guests and local residents planted 54 indigenous trees. Grown from seeds in the preserve's new, permanent nursery, species included native Wayaca, Watapana, Calbas, Seida Cora and Dabaruida.
Growing our future
Today's planting of 54 new trees and recent other plantings including one with Minister Ursell Arends, Aruba's Minister of Transport, Integrity, Nature and Senior Affairs, are the start of the major reforestation effort. This year, the goal is to plant up to 1500 new trees. The ultimate goal is to eventually plant up to 20,000 new trees in the preserve.
The reforestation is in Phase 1, which is 1 hectare or 2.5 acres. Over the next 40 years, today's 54 newly planted trees will draw down 54 metric tons of CO2 from the atmosphere. Everyone wins as the carbon sink inhales the carbon dioxide and exhales fresh oxygen.
The preserve is home to some of the island's 280 bird species, along with indigenous flora and other fauna, the preserve has had some tree planting events. Eventually, paths and trails will be added for residents and visitors to relax in the peaceful setting.
Earth Week 2023
Bucuti & Tara loves celebrating Earth Day every year with a week's worth of events. This week, guests joined The Honorable Prime Minister of Aruba Evelyn Wever-Croes, local teachers and school children, sustainability partners from Aruba International Airport, De Palm Tours' charitable arm, The Giving Palm, resort guests and staff for a special Earth Day Beach Clean-up. They removed 65 kg of debris and litter from Eagle Beach to keep it pristine and to protect marine life including Leatherback sea turtle nests.
For the 2023 Recycled Crafts Contest, guests served as judges as Bucuti Associates who submitted their creations made from recycled materials wowed everyone with their imaginations and talent. Tonight, guests attending the Movies Under the Stars will be treated to Journalist and Naturalist Sir David Attenborough's inspiring documentary, A Life on Our Planet.
From all of us at Bucuti & Tara on this Earth Day, wishing you Love, Peace & Happiness…Naturally.