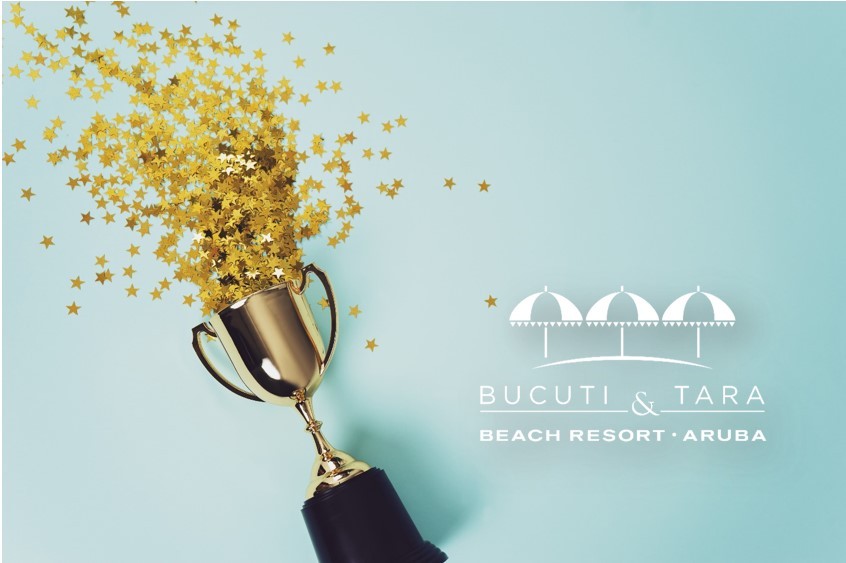 Our Bucuti & Tara Beach Resort is providing top-notch service and dream vacations according to Booking.com, USA Today, and US News & World Report. Each of the major media and travel outlets recently recognized the Eagle Beach resort for being among the best of the best in the world. Most importantly, these awards assure travelers that they are choosing a heralded, memorable vacation when they stay at the independent, adults-only resort.
Booking.com
Bucuti & Tara received an overall 9.6 out of 10 rating from Booking.com, making it the highest-rated Aruba hotel receiving a Travellers Review Award 2023. Accompanying the news, Booking.com shared, "This award is a symbol of all the times you went above and beyond to create special experiences and lasting memories for travelers."
The Exceptional-level rating includes specialty categories including 9.9/10 for its location on Eagle Beach and 9.9/10 for adults recommending a stay for a two-person visit. Booking.com is one of the world's leading digital travel companies. Available in 43 languages, it represents more than 28 million accommodations.
USA TODAY
USA TODAY 10Best surveyed readers just in time to learn about couples' choices for the dreamiest places in the world for planning a getaway together. More than 70 million people read the far-reaching news outlet. Bucuti & Tara is grateful to the nominating editorial board including journalist Melanie Reffes and all who voted for it as a Reader's Choice Award 2023 winner for Best Adults Only Resorts in the World. Additionally, the resort took home two more USA TODAY 10Best awards for Top 10 Best Caribbean Resort and Top 10 Best Restaurant in the Caribbean for its Elements beachfront restaurant.
US News & World Report
Iconic US News & World Report, read by more than 48 million people every month, covers international and national news and is also home to ranking goods and services so consumers experience the best. For 2023, its editorial board once again awarded Bucuti & Tara with a Gold Badge for being among the top 10% of the Best Hotels in the Caribbean. We were also named the No. 1 Best Resort in Aruba. Bucuti & Tara was also named among the Top 25 Best Resorts in the Caribbean.
U.S. News analyzed more than 30,000 hotels to find the best in the USA, Europe, Canada, Mexico, Bermuda and the Caribbean, based on reputation among travel experts, guest reviews and hotel class ratings.
Google and Caribbean Journal
Regional experts - Caribbean Journal named Bucuti & Tara as the No. 1 Hotel in Aruba and the "Top 10 Romantic Resorts to Visit Now." This supports the resort's top ranking for the island in Google hotels with a 4.8/5.
Sustainability recognition
These latest quality awards are joined with Bucuti & Tara's latest sustainability achievement accolades. The property once again earned global recognition by being honored with a National Energy Globe Award. The annual Energy Globe Awards are one of today's most prestigious environmental accolades. Bucuti & Tara's submission, "Journeying to Carbon Negative," was recognized out of more than 2,500 projects aimed at protecting the environment submitted by over 180 countries.