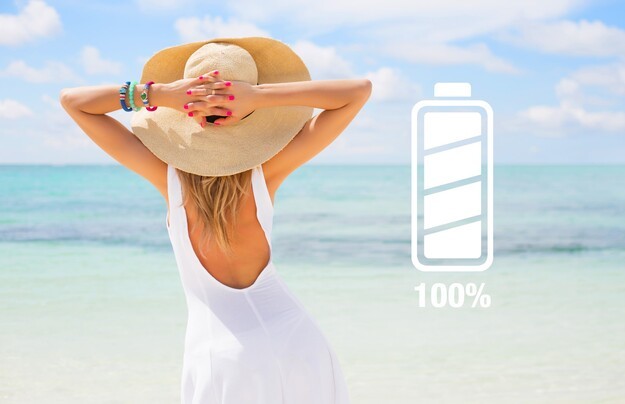 Is it time to take a step back in order to move forward? Is stress zapping your energy? Are you constantly tired, yet cannot sleep well? Burnout is often the culprit. If you feel like even having to search for a solution is too much, relax, you've found it right here at Bucuti & Tara.
Burnout is a state of physical, mental, and emotional exhaustion that is common in our fast-paced society. Burnout battles our overall health and wellbeing, whether it increases the risk of conditions such as high blood pressure, weakened immune systems, and weight gain or interferes with our relationships
Perhaps it is the road of ambition that is derailing, teetering on burnout. Sometimes it is the unyielding demands of being a caregiver of others and it is hard for us to admit to ourselves we need a time out for selfcare.
Beat Burnout with Bucuti's Wellness Specialists at your side
Bucuti & Tara's cornerstones are romance, wellness and sustainability. That's right, wellness is a part of our core promise to you and not a passing trend. Therefore, our wellness program is rock solid and covers nutrition, physical fitness, mindfulness and mental wellbeing. While guests can opt for any wellness activities whether it be one of our new offerings or a hyper-personalized itinerary, we are interested in helping you along your continuum of wellness.
Reminding cortisol that you are in charge
On a daily basis, guests arrive to check-in and immediately we begin to see their shoulders soften in relaxation. Clenched jaws loosen, cinched foreheads ease. Bucuti & Tara intends this for you and so much more. The always-promised setting of tranquility and laidback luxury surrounds you. No kids, no groups, no loud music or motorized water sports - all of the "what we are not" - so the sole focus is on you. What you will find is superb guest service, the uplifting lilt of swaying palms and songbirds, soft colors in a chic atmosphere, and the wide powdery white sand beach greeted by the gentle lapping waves of clear turquoise water.
Cortisol, the stress hormone that's been pulsing through the body begins to realize it is time to back down. Left untreated, cortisol, released by the adrenal gland in response to stress, can cause a range of negative health outcomes, including insomnia, digestive issues, and immune system dysfunction.
At Bucuti & Tara, stress doesn't have a chance.
Meeting you where you are at
Relaxation and rejuvenation are found throughout the Bucuti & Tara experience. Knowing that what we put into our bodies can quickly begin to change how we feel, our thinking, and what we can begin to do, the resort's award-winning culinary offerings make it easy to nourish your body without foregoing amazing taste.
Climate-forward dining means you have many options of healthy food choices that are delicious. At Elements restaurant, full menus are dedicated to world cuisine, vegan, vegetarian and gluten free. Our Authentic Aruban & Caribbean Menu is a collection of recipes handed down by generations of our staff's families - a blend of freshness and comfort-food that soothes the soul.
An extensive collection of wellness activities provide many options to manage stress levels. Burnout remedies abound. From practicing stillness and including sound healing with the island's best practitioner, diving into the water for some vitamin "sea," to getting in touch with nature through snorkeling or hiking Arikok National Park and taking a cooling dip in the Natural Pool. Perhaps it is practicing sun salutations with a morning beachfront yoga session or expanding your comfort zone and trying antigravity aerial yoga, or incorporating one of our palm trees into your beach boot camp workout before melting into an outdoor massage, many curated selections are available to fit what works best for you.
Burnout busters are at your service
Without adding to your to-do list, our expert staff is on hand to offer highly personalized planning, and guidance and support, with the sole goal of helping you to develop healthy habits and cope with stress more effectively.
Adding wellness to your Bucuti & Tara is as easy as completing this pre-arrival survey so your personal concierge and the resort's wellness specialists can begin helping you return to feeling like your best self. What's more, you'll continue to thank yourself long after your Bucuti & Tara stay with all the new "tools" you'll have to take home and stay stress-free.