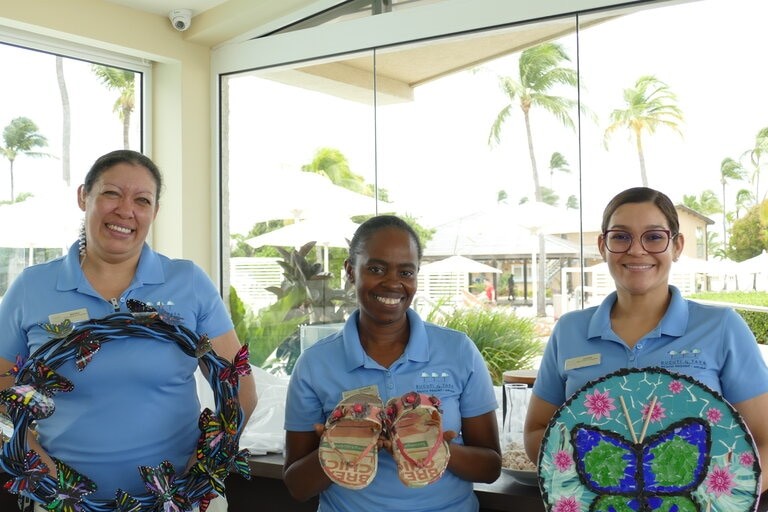 The saying, "one man's trash is another man's treasure," is a fond tradition here for Bucuti & Tara Annual Recycled Crafts Contest. In the weeklong events leading up to Earth Day 2023 on April 22, this fun activity invites our Bucuti Associates to recycle materials from the resort to create art pieces. Guests are encouraged to cast their vote for their favorite recycled craft.
Meet this year's winners
In celebration of Earth Day 2023, the crafts entered into this year's contest by Bucuti Associates were colorful, inventive and inspiring. There were 45 guests who cast their votes today. They enjoyed mingling with staff and learning about the resort's sustainability initiatives, which the United Nations declared are "highly replicable and scalable," that others can incorporate.
Our new Sustainability & Certifications Manager Jeroen van Dasselaar spearheaded this year's event.
For the Recycled Craft Contest of 2023, we congratulate our three winners:
1st Place: Mayra Ras-Tromp of the Front Desk for her hand painted butterfly wreath. Mayra used leftover cables from Setar, the island's telecommunications company, to fashion the wreath. She made butterflies out of plastic bottles and brought them to life with paint.
Mayra shares, "I participated because I wanted to use my creativity. I used butterflies as I think they are calming. Happy to win - we need to recycle more!"
Georgia shares, "I like to do arts and crafts, normally embroidery. I followed art classes and crafts class back in my school days. The flip flops I made for this year's contest actually fit my feet!"
3rd Place: Vashni Wix-Chirino of Reservations for her wall art, Everyone is a Butterfly. Vashni used old gift bags, glass bottles and used paper straws from Wendy's to create her masterpiece.
Vashni shares, "Some earlier than others, but everybody blossoms and becomes a butterfly. You can choose to be whoever you want to be and express yourself how you want to."
Each received awards for their beautiful artwork created from recycled materials. Congratulations!
A healthier vacation for you
The resort's reduce, recycle, reuse program keeps 68% of debris from ever entering the landfill. While space is precious for our small island home, there is an even bigger driver for the resort to limit waste. Materials are costly and living on an island where many supplies have to be shipped in, which contributes to pollution and releases more greenhouse emissions.
Bucuti & Tara works to streamline all materials and supplies coming to the resort. When materials reach their original endlife, they are often repurposed. Towels are purposed into smaller towels for guests to use in the Fitness Centre. Gray water is captured, sanitized, and used for irrigating the lawn and gardens. Leftover lumber and pallets were even repurposed and debuted as the resort's new beautiful holiday tree this past December.
Relax even more, your vacation is guilt free
By choosing to spend your valuable vacation time with us at Bucuti & Tara, we are honored to provide you with the Caribbean's first certified carbon-neutral hotel. From every meal you savor prepared Elements' Michelin-trained Chef to every breath of purified air your breath in your accommodations, every aspect of your stay is accounted for in our Environmental & Sustainability Policy.
A stay at Bucuti & Tara is healthier than even staying home. As your resort stay is carbon-neutral, we invite you to have the resort's Carbon Neutrality Concierge, the first in the world, to assist you with neutralizing carbon emissions from air travel, airport transfers, and even island excursions. A door-to-door vacation that is as good for your soul, your relationship as much as the planet is the ultimate guilt-free experience.
Join in this Earth Day and every day
In honor of Earth Day on April 22, Bucuti & Tara the resort is hosting a week-long celebration where guests have the opportunity to participate in multiple inspiring events that make a difference. We hope to see you here!