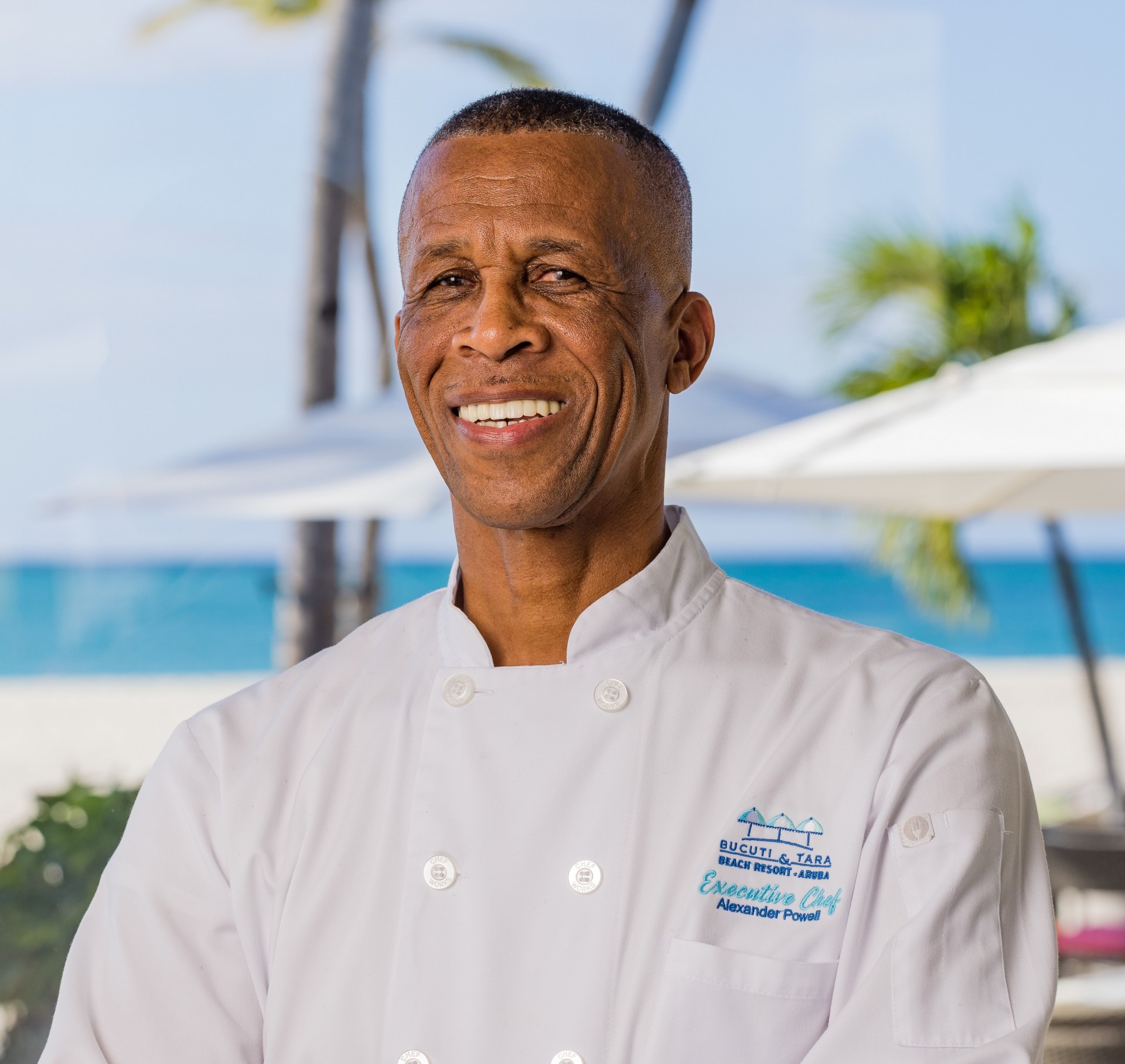 With a smile as wide and genuine as his culinary talents, Executive Chef Alexander Powell welcomes Bucuti & Tara guests for a dining experience most fitting for their vacation at the Caribbean's No. 1 Hotel.
Chef Alex has dazzled heads of state, Hollywood elite, professional athletes and celebrity chefs (watch out, Gordon Ramsey, he's ready to challenge you next!). He promises the thrill is the same for every guest he serves here at Bucuti & Tara's award-winning Elements restaurant and SandBar.
He's developed his craft at Michelin-starred restaurants in New York City, Washington DC and the always popular Miami culinary scene. He's worked in the top venues in the Bahamas and Turks & Caicos. Chef Alex attended New York Restaurant School, studied at Marriott International, and heightened his expertise through the culinary Concept by Jean-Georges. It is the latter, Jean-Georges Vongerichten, who became his mentor and trainer beginning Chef Alex's first day out of culinary school. Under his tutelage, Chef Alex has trained chefs for Jean-Georges, one of the most famous chefs in the world with more than 40 restaurants to his name, and overseen the kitchens of five-star hotels. To this day, the two chefs remain close.
One goal: always please the guest
With all of Chef Alex's experience, his goal is always to listen to the guest and create what they want and need. Whether it is a dietary need or preference, his approach is to acclimate his culinary offerings to what guests seek.
Elements is known for full menus of vegan, vegetarian, gluten-free, world cuisine and authentic island and Caribbean dining. While he can easily call on his big city skills, he loves visiting local restaurants, inspired by their cooking styles and recipes.
By the book, investing in the staff serving Bucuti & Tara's guests
Chef Alex thrives at teaching. His passion for developing and supporting his team and colleagues comes from within. Being hands-on, working side-by-side with colleagues who may be in the early stages of their careers to those who've worked more in the kitchen than out of it in their years is where Chef Alex centers himself.
Spending a lot of time in the kitchen is combined with his joy of seeing how recipes are made. His high standards include always beginning with research, then creating a recipe and finally always following it for every single dish. This delivers the coveted consistency guests can expect during every dining experience whether it is their third meal during their vacation or their third vacation at the resort.
From world kitchens, to the heart of Eagle Beach
On any given day, guests at Bucuti & Tara hail from an average of 25 countries worldwide. From the first day, Chef Alex stepped foot in a kitchen, he has experienced different cultures, different languages, different personalities, and different attitudes. He shares the key is to make any needed adjustments and always treat everyone fairly and respectfully.
Elements restaurant is recognized as a Caribbean favorite. Staying at the top means constantly evaluating the process and keeping guest preferences central. Chef Alex shares that one of the latest dishes resulted from working with guests seeking an off-the-menu vegan dish. The result is a portobello mushroom and avocado carpaccio. The guests were so thrilled they took a picture and sent it to Bucuti & Tara's Owner/CEO Ewald Biemans. Next, Mr. Biemans was curious and tried it happily proclaiming it is the best vegan dish he ever had.
Hailing from Jamaica, Chef Alex is a natural fit with the Elements' Authentic Aruban & Caribbean Menu. The menu was literally generations in the making based on treasured recipes from Bucuti Associates. With Chef Alex overseeing it, you can bet that the jerk chicken is on point.
The best chef he's cooked for
Cooking is part art, part science. As a successful chef, Chef Alex shares with all of his staff that they must have a very deep passion for the field. To separate themselves from the average, they must be willing to work long, hard hours if they want success.
For Chef Alex, this began at 10 years old. As the oldest child, after school each day, he spent time cooking at his mother's restaurant in Jamaica. He also cared for his siblings on their family farm. They tended to crops and livestock, growing almost everything they ate.
"My Mom was the best cook I ever cooked for," shares Executive Chef Alex. While she preferred to eat fish, she cooked meat for her family and restaurant patrons and Chef Alex was amazed at how perfectly seasoned and prepared every meat dish was on her menu.
Today, every guest who dines at Bucuti & Tara can enjoy knowing that with Chef Alex, their meals will be from the heart, just as those he makes for his Mom.