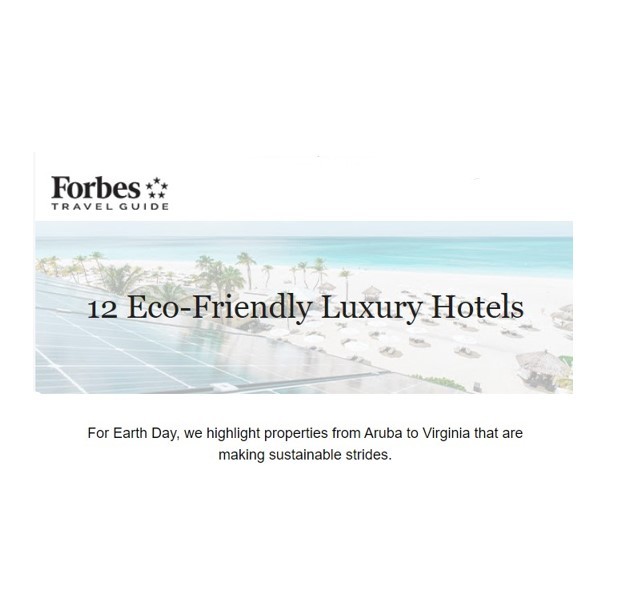 Forbes is showing travelers they can have the best of both worlds – eco-friendly and luxury –for their travels. Forbes, one of the world's leading voices for entrepreneurial success and free enterprise, released the world's top eco-friendly luxury hotels leading up to Earth Day 2023 on April 22. Topping the list is Bucuti & Tara.
"Influencing all of life's sectors"
"The era in which Earth Day acted as the only time most people dedicated to thinking about the state of the environment has long since passed. The concept of sustainability now influences all of life's sectors, including travel."
Forbes spotlighted the recent study revealing that 90% of travelers want sustainable travel options.
As travelers are seeking a more sustainable travel experience, it can be a challenge for them to discern if a property genuinely adheres to sustainable principles. That's where Forbes is seeking to make a significant difference and ensure confidence with its forthcoming Responsible Hospitality verification program. Kicking off this initiative, Forbes gathered leaders that have "already demonstrated impressive efforts to preserve landscapes for future generations of travelers to behold."
Leading the way
Going straight to the top, Forbes focused on the only hotel in the world to hold the Global United Nations Climate Action Award, Bucuti & Tara. From repurposing gray water, using solar, implementing smart laundry systems, the best energy efficiency in Aruba, and the resort's hands-on conservation efforts, the all-encompassing program is woven throughout every vacation.
Join in this Earth Day and every day
In honor of Earth Day on April 22, Bucuti & Tara the resort is hosting a week-long celebration where guests have the opportunity to participate in multiple inspiring events that make a difference.