Wellness Program - Spotlight Chef Ziggy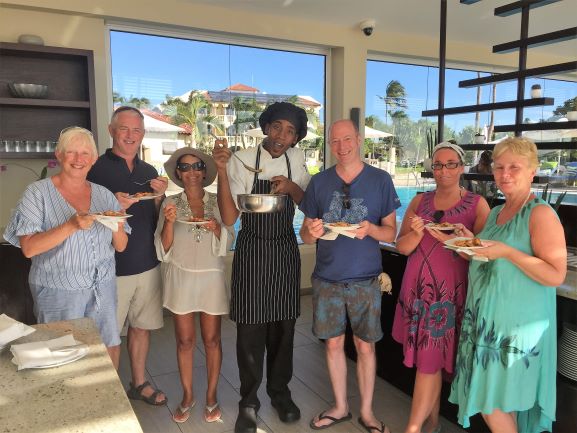 Chef Zychiel Reynaldo Garcia Pantophlet is a local star, having graduated from EPI College and who was initially hired as first cook within the Elements restaurant operation. Chef Ziggy has since blossomed within the Elements restaurant kitchen. His passion for culinary arts combined with his effusive, cheerful personality and quick wit have earned his place in the hearts of our guests who both enjoy his dinner creations in the evenings at Elements as well as his local cuisine demonstrations on Mondays as part of our Wellness program.
Last weeks demonstration was of Ziggy's Vegan "Comcomber Stoba" Cucumber Stew. Locally grown, organic Cucumbers are sauteed in olive oil with fresh onion, garlic and fresh tomatoes, vegetable broth, herbs, spices and green peppers are added along with Chef's magical touch for an aromatic and delicious stew which all enjoyed.
To sign up for the local cooking demonstration, contact our concierge team: concierge@bucuti.com early to ensure a spot.