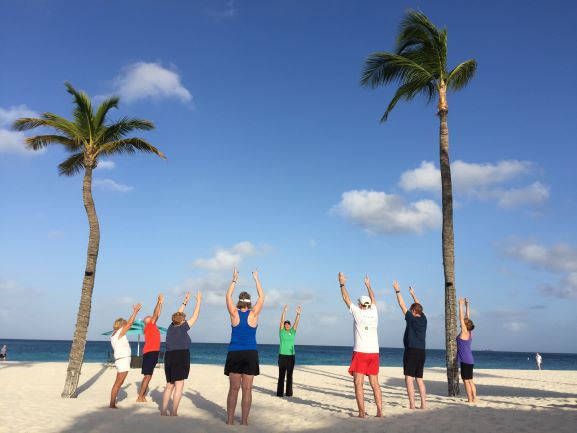 The rising sun has cast a beautiful glow on Bucuti's powder white beach, the ocean is shimmering with the new light and the feeling of Aruba's warm breeze is caressing your skin. This is just the beginning of a transformative encounter you are about to have with Tai Chi on the beach.
Meet the lovely and powerful Sofie Slegers who is our Tai Chi expert within our Wellness program. Sofie teachs Tai Chi every Wednesday morning which is
included
as part of the Bucuti & Tara
wellness experience
at no charge for our guests.
Sofie owns and operates Qi Gong Aruba which she opened in 2004. Extremely popular and in high demand locally, Sofie also manages Centro QuiVit in Oranjestad which is a training and therapy center offering Tai Chi, Qi Gong, Yoga, breathing therapy, meditation, mindfulness, Reiki therapy, BEMER circulation therapy, sound relaxation therapy, art therapy, music classes, massage, foot reflexology and private physical therapies. In her free time Sofie runs STER, a charity foundation for senior citizens. And...Exhale
To include Sofie's class in your Bucuti & Tara Experience, contact:
concierge@bucuti.com
. Classes fill very early so plan ahead.