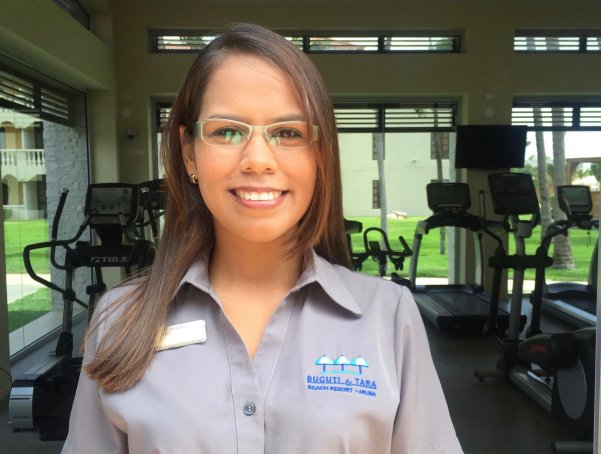 Going on vacation is, inherently, all about relaxing. While taking a break from the stresses of day-to-day life has a multitude of health benefits, lapsing on healthy habits has the opposite effect. No matter if we spend our vacation at the beach, in the countryside or in the mountains, many people fall into similar unhealthy traps –eating larger portions, forgoing exercise, disregarding nutritional value of meals and increasing alcohol consumption.
Staying healthy on vacation doesn't have to mean going on a yoga retreat or completely restricting yourself from having a good time. Instead, instituting a few simple practices and practicing moderation will help you feel your best throughout your vacation and head home free of guilt. Our new Wellness Specialist Isabel Struve-Rasmijn can help you stay on the right track during your vacation at Bucuti or help you launch a commitment to personal health through Bucuti's fully-customizable wellness program. Here are some of her tips on the easiest ways to stay healthy while away from home:
Stay Hydrated
Water makes up approximately 60 percent of your body, and drinking at least two liters a day greatly promotes overall health. Drinking water helps maintain the balance of bodily fluids that control functions like digestion, circulation and temperature regulation – something that is very important while visiting a warm tropical climate like Aruba. At Bucuti & Tara Beach Resort, we provide all of our guests with canteens that can be filled with water free of charge. So drink up!
Eat Breakfast
Breakfast is the most important meal of the day, yet it is often overlooked in the rush to get out the door. Vacation offers the perfect opportunity to get into the habit of starting your day in a healthy way. Take the extra time you have in the morning to provide your brain with the fuel it needs, restore the glycogen in your muscles that was depleted overnight and kickstart your metabolism. Bucuti offers breakfast buffet located in two different areas where you can choose from a wide selection of healthy options including fresh fruit, cereal, egg whites, gluten-free items and more.
Make A Commitment To Healthy Snacks
A hearty breakfast will get your day off to a good start, and planning for healthy snacking throughout the day will help keep your energy up and your spirits high. Eating two healthy snacks between 10 a.m. and 4 p.m. prevents the body from becoming too hungry. When you restrict yourself from food during the day, you will be more apt to overeat when dinner time rolls around. Snacking isn't just a treat, it can help you control the size of your portions and make good choices. Some snacks that help me get through the day that I highly recommend are Greek yogurt, plain nuts and fresh fruit.
Make Early Dinner Plans
The earlier we eat the last meal of the day, the easier it is for our bodies to properly digest the food we have consumed and actively burn off some of the calories before hitting the sack. Eating before 7 p.m. and sticking to sensible portions like those available at Elements, our oceanfront restaurant, are good ways to make sure you have better, deeper sleep and wake up refreshed the next day. Not to mention, guests dining early at Elements, can enjoy the mesmerizing glow of a spectacular Aruban sunset with their main course.
Pass On The Fried Foods
This may sound simple, but it is easy to slip into the vacation mindset and lose count of the calories you are consuming. Baked, steamed and grilled preparations are the way to go when selecting entrees. Grilled mahi mahi and salmon and seared chicken are just a couple of the many smart choices available at Bucuti's Elements Restaurant. The restaurant also specializes in vegan, vegetarian and gluten-free menus.
Indulge In High-Calorie Desserts Sparingly
When overconsumed, sugar can be one of the most harmful elements of your diet. Most cake, pie and ice cream is chock full of sugar and calories. Enjoying deserts is all about moderation. It is okay to indulge in the Chocolate Risotto one night, but consider a piece of fruit to satisfy your sweet tooth the rest of the week. You'll reap the benefits of the vitamins, antioxidants and fiber, and your body will thank you for it.
Drink In Moderation
There's no need to pass up a piña colada in paradise. However, keep in mind that there is a price for their sweet deliciousness. This island favorite often has just as many calories as a Big Mac! Alternating alcoholic drinks with a glass of water is an easy way to help curb the desire for the next round by keeping you full and also preventing you from overconsuming. The effects of drinking too much can wreak havoc on your body, not to mention your morning plans. By drinking responsibly, you'll be able to make the most of your time sightseeing and enjoying our beautiful beaches.
Get Out There And Exercise
Reserve at least 30 minutes each day for some sort of physical activity. This does not mean you have to force yourself to spend the time on a stationary bike in the gym. Getting outside and enjoying your surroundings is the easiest way to stay motivated. For added incentive, download an activity tracker app to your smart phone or bring along a Fit Bit to record your physical endeavors. Here in Aruba, you can walk along the beautiful shoreline, hike in the rugged landscapes of Arikok National Park, explore downtown Oranjestad by bike, or immerse yourself in local culture at a dance class. The opportunities are endless!
Most Importantly….Relax!
It's still vacation, after all. Take a refreshing dip in the ocean and feel rejuvenated by the healing qualities of saltwater. Treat yourself with an Aloe Massage from Purun Spa. This locally grown wonder plant offers a host of health benefits, including being one of nature's best moisturizers. Make the most of our red flag beach service, where our staff assists you as much, or as little, as you need. Breathe deeply and let the tranquil sights, sounds and smells of Aruba seep into your soul.
Our Wellness Specialist is available to help you plan a wellness itinerary for an upcoming stay or for a private nutrition consultation.