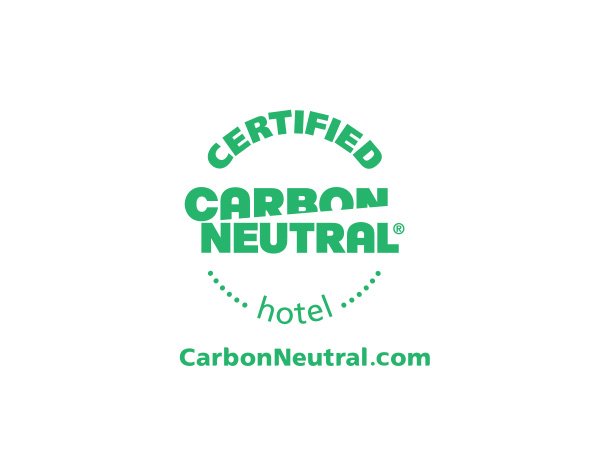 Bucuti & Tara Beach Resort Named Caribbean's First Certified Carbon-Neutral Resort
Proving actions speak louder than words, Aruba's Bucuti & Tara Beach Resort just became the very first hotel in the Caribbean to achieve carbon neutrality. Recognized as the pinnacle of sustainability achievements in the world, the CarbonNeutral® designation was officially made on August 28, 2018.
What does it mean to be CarbonNeutral®?
CarbonNeutral® is a global standard awarded to businesses that have reduced their (CO2) greenhouse gas emissions, which trap heat in the atmosphere, to net zero. The certification includes emissions from electricity, energy use and employee commuting. Such emissions come from, but are not limited to, electricity, gas use (LPG, diesel and gasoline) and employee commuting.
Why Bucuti & Tara invest in Carbon Neutrality?
Earth's temperatures continue to soar, and sea levels are rising threatening coastal communities worldwide such as sea-level Aruba. Bucuti & Tara recognizes that human-driven climate change is a global issue that every person, business and organization, has a responsibility to change.
Committing to a net zero carbon footprint is an investment. It involves a financial commitment, extensive research when planning capital/facility improvements and it requires that everyone from staff to guests to vendors all share in the promise.
Scientists worldwide agree that the rapid pace that modern climate change is occurring is being driven by human activity. The world's dependence on fossil fuels is the primary driver of climate change. Climate change and global warming will affect coastal areas even more with islands and beaches of the world suffering significant impact.
For the sake of our future, we simply cannot afford not to protect our endangered planet.
Do you think carbon neutrality will contribute to the success of your hotel business?
Our guests have chosen Aruba for our naturally beautiful beaches, stunning turquoise waters and the happy, healthy island community. We must protect and preserve our environment on a meaningful level to deliver this experience in the future. I believe the hard work, passion and dedication of our sustainability team to achieve carbon neutrality will inspire others to consider similar action.
Providing a net zero carbon emissions experience means Bucuti's guests leave no footprint, but do leave with a memorable, guiltfree vacation. Bucuti & Tara's mission is to achieve lasting results for both its guests and conservation. Bucuti & Tara has now proven that carbon neutrality and a memorable vacation are mutually inclusive
What did Bucuti & Tara have to do to reach carbon neutrality?
Bucuti & Tara's sustainability commitment began almost three decades ago. We've been able to create a robust and extensive environmental program and policy. Our goal to become carbon neutral was set seven years ago and we began by evaluating how to further reduce our emissions beyond all we had accomplished and implemented. Over the past two years we secured experts to conduct a gap analysis. We began working with SCS Global Services, who provided the third-party evaluation service using science-based auditing and testing to evaluate Bucuti & Tara's efforts.
The resort committed to following the CarbonNeutral Protocol, which is the leading framework for achieving carbon neutrality around the world. The gap analysis involved calculating our carbon footprint and determining all of the carbon generation in our operation. This allowed us to identify areas where we could reduce CO2 emissions. Examples include adding the largest solar panel project of its type on Aruba (maximum allowed by the government), more efficient stove tops (inductions), bundling purchasing and procurement and an enhanced diversion of waste from landfills by more substantial reduce, reuse and recycling efforts.
After maximizing the emission reduction in our operation, we closed the minimal gap with an offset project with our local company VaderPiet and their wind turbine project. The true goal of achieving carbon neutrality is to maximize reductions within your organization so that the gap is truly as minimal as it can be to offset.
Completing the process, we enlisted Natural Capital Partners, to conduct the certification process and to verify the data and CO2 emissions calculations to confirm the success of achieving carbon neutral.
How long is the CarbonNeutral® certification valid?
CarbonNeutral® certification is valid for one year.
During the annual renewal process, Bucuti & Tara will have to show that it continues to operate with net zero carbon emissions. Achieving carbon neutral requires ongoing work and investment.
Who are the people behind Bucuti & Tara achieving carbon neutrality?
In short, the entire Bucuti & Tara staff, our guests, our Aruba community and our vendors have contributed to this achievement. We are grateful for the leadership of our Assistant Manager, Ignacio Ortiz who originally began the process with the Green Team and more recently the effort was managed by Nathaly Stanley, our Sustainability and Certifications Manager.
With sustainability being central to our mission, Ewald Biemans, owner and CEO of Bucuti & Tara and passionate environmentalist, has steadfastly woven sustainable practices throughout the resort's policies and culture since opening in 1987. Recognized as the Caribbean's most eco-certified resort, Bucuti & Tara was the first ISO 14001 certified hotel in the Americas, the first in the Caribbean to achieve LEED Silver certification and has been named the World's Most Sustainable Hotel/Resort by Green Globe. Biemans himself has received multiple awards as a green leader including being the Caribbean Journal's Green Hotelier of the Year and last year he was the first-ever individual to receive Leader in Sustainability Gold Adrian Award from the Hospitality Sales & Marketing Association International and National Geographic Traveler, an honor previously only awarded to organizations. He is often called upon for public speaking engagements and expert insight about sustainability.
What do you want people to know about a Bucuti & Tara vacation experience related to Carbon Neutrality?
Hopefully every one of our guests knows how important they are to us and to the Bucuti & Tara story. When we commit, we commit – romance, wellness and sustainability. We committed to offering the most romantic vacation and for the last three years we have been TripAdvisor's No. 1 Hotel for Romance in the Caribbean. We committed to provide a healthy environment for our guests' vacations – and the environment - and we've achieved the status of the most eco-certified resort throughout the Caribbean.
Bucuti & Tara's mission is to achieve lasting results for both its guests and conservation. Bucuti & Tara has now proven that carbon neutrality and a memorable vacation are mutually inclusive. A stay with us helps combat climate change and is better for the environment than an equivalent drive vacation!
We've made it seamless for our guests to leave no footprint, but leave with a memorable vacation.
Peace, love & happiness... naturally.