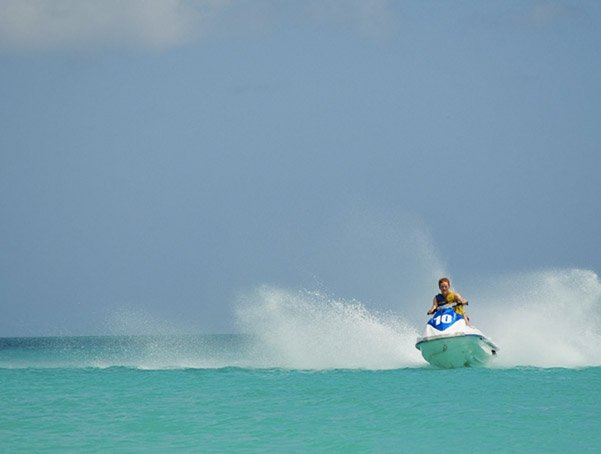 When guests book their vacation at Bucuti, their primary goal is total relaxation. I find that the most gratifying part of my job is being able to see the joy that our resort brings to our guests. A part of providing that relaxation element to our hotel is making sure that we offer exceptional service along with a peaceful environment.
With this in mind, Bucuti recently found itself having to confront a very serious issue on the island – water safety. As an island, Aruba is a prime destination for those who love to enjoy water sports and here we cater to all sorts of activities, including tubing, banana boats, jet skis, parasailing and sailing, among others.
The problem with having these activities in and around our beaches has been the lack of regulation that has placed many people at risk. So much so, that our own guests had expressed distress towards the clear and present danger of these watercrafts. Additionally, they also cause an immense amount of noise and pollution that, once again, interferes with the relaxation, comfort and peace that those who visit Aruba wish to enjoy.
For this reason, the Bucuti Beach Resort, along with some of our guests, came together to challenge the government and ask them to bring about change to this issue, not only for the safety of our guests, but for the well-being of our tourism industry. Among our requests, we asked that they restrict motorized water sports to 75 meters off the beach and that they install safety buoys for cordoning off swimming areas to provide further safety.
We are happy to announce that, as a result of our efforts, the courts have required the government to restrict all water motor activities between the high rise hotels and the Amsterdam Manor beach resort and will soon be installing warning and safety buoys around the Bucuti and Tara Beach Resort swimming areas.
Furthermore, the government has established an H20 committee that will be tasked with regulating all water activities and their operators to ensure that they have acquired the proper licenses, safety equipment and insurance which allows them to operate in the water sports industry.
Thankfully, between now and midyear 2011, we will see the implementation of these measures and be able to offer our guests peace of mind when they come to relax in our beach. We would like to thank all of those who participated in this effort and helped Bucuti reach a higher level of guest satisfaction for all of us to enjoy.