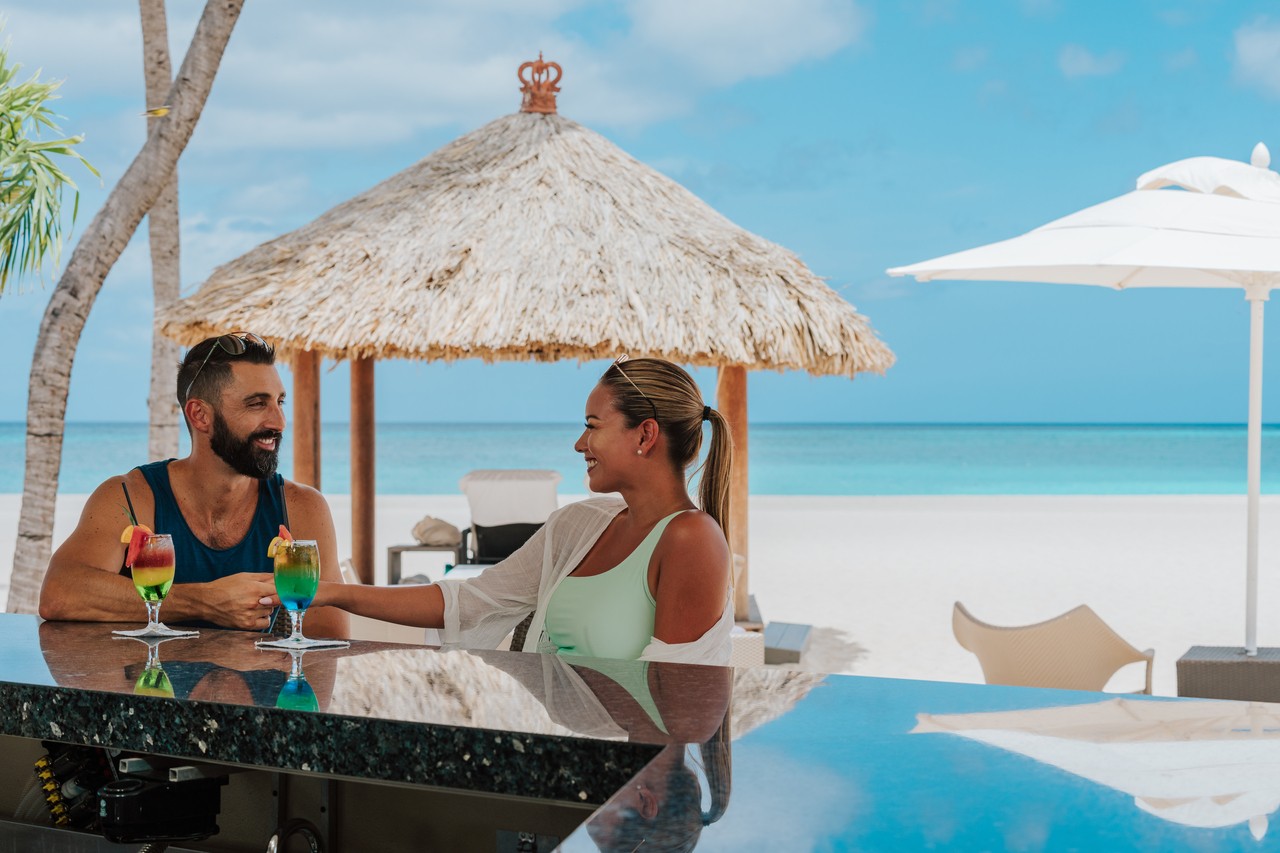 It is said that tranquility is the new luxury. At Bucuti & Tara we have always gone to great lengths to protect uncrowded peace and tranquility for our guests. While high-rise hotels and all-inclusive hotels are bustling with families, pulsating music, slot machines, and boisterous groups celebrating, we have taken the opposite approach to deliver a peaceful, tranquil vacation to you. We provide wide open spaces, the sparkle of the turquoise ocean, sound of the breeze dancing with the palm trees, and soft rhythmic ocean waves, as well as the glisten of the white sand beach.
Recently though, we have been receiving serious complaints and even cancellations from long-time guests who have witnessed changes in our peaceful ambiance and believe we've strayed from our promises. They cite groups gathering at the SandBar, crowding into the Happy Hour and hotel guest groups who become boisterous and increasingly voluminous there. Guests celebrating anniversary dinners at adjoining Elements or in private cabanas have been disturbed by the loud gatherings forming at the SandBar.
Therefore, to ensure we can deliver this promise of peace and tranquility and provide the happiness you expect to experience at Bucuti & Tara, beginning April 10, 2023, we are retiring happy hour pricing to improve service and lessen the rush over certain hours. Our only change is the happy hour pricing and we will continue to deliver the SandBar experience for all guests who love to gather there an meet other guests.
Groups
To further preserve tranquility, we will strictly allow only one table of six (6) people on the Elements dining deck or the lounge at the SandBar at any given time. Many years ago, we stopped accepting group bookings and weddings larger than four people. To assure every Bucuti & Tara guest had a seat at our SandBar, we made it a guest-only exclusive experience. Radios, video calls, or speaker-phones in our public areas and beach all require headphones. All of these changes have resulted in happier guests.
Another reason we have decided to cease happy hour prices is that all resorts have recently been burdened with extraordinary cost inflation and government tax increases including a large increase on alcoholic beverages. Many resorts have increased bar menu prices significantly to be able to compensate for happy hours and we have decided not to do that, but to stop the 50% off pricing.
Bucuti & Tara guests communicate clearly about why they chose us, which is their ability to connect with the beauty of nature and each other in our serene environment. The solution that makes most sense to help solve these problems is to stop offering Happy Hour pricing at the Sand Bar. We believe a normal flow of business at the bar instead of the large rush for happy hour for the 50% prices will help restore the atmosphere our guests are promised. You can count on our talented, warm bartenders to continue to welcome you there and have the opportunity to provide better service, without the crowds.
Our Healthy Hour, serving alcohol-free cocktails will continue without change.
As always, we are providing ample notice to our guests who may make decisions based on our changes and therefore we will begin this change starting the summer season, 2023 which begins April 10th.
Peace, love, & happiness...naturally.