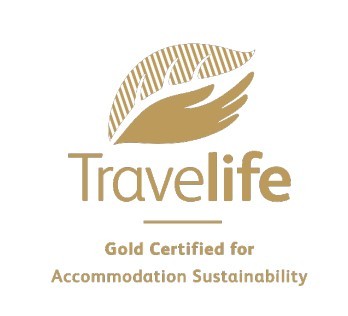 Embrace Sustainable Luxury at Bucuti & Tara Beach Resort, Aruba
We are excited to share our latest achievement: securing the esteemed Travelife Gold certification once again. This accomplishment showcases our dedication to providing not just a vacation but an experience that benefits our guests, staff, community, and the planet.
As the Caribbean's eco-leader, we take immense pride in surpassing all 163 requirements of the Travelife Gold certification. This recognition assures our guests that choosing Bucuti & Tara is not only a treat for themselves but also a positive contribution to the environment, the local community, and our wonderful staff.
At Bucuti & Tara, sustainability isn't just a buzzword – it's a way of life. We've aligned ourselves with Travelife, a global authority in accommodation sustainability certification. Known for its credibility and rigor, Travelife's comprehensive criteria cover a wide spectrum, including emissions, biodiversity, fair labor practices, human rights, child safeguarding, and animal welfare.
Our journey with Travelife began in 2011 when we first earned our certification. Since then, we've continuously evolved our sustainability framework. We've handpicked some of the most stringent and beneficial eco-certifications, including Green Globe Platinum, LEED Gold (v4.1), and CarbonNeutral®. Being the Caribbean's sole carbon-neutral hotel, we're committed to progress, continuously implementing new initiatives.
Over the past year, we've introduced innovations like new interior and exterior coatings that keep our rooms cool and comfortable, plus a high-efficiency air-conditioning system. Our ultimate goal of going 100% paperless is within reach, reflecting our commitment to a greener future.
One of our most exciting projects is the Bucuti & Tara - GMC Nature Preserve. This 30-acre carbon sink is not just a testament to our commitment but also a practical step towards offsetting emissions and protecting local flora and fauna. It's heartening to see guests and staff come together with shared purpose to support this initiative. These initiatives have also been recognized within our local tourism community. Bucuti & Tara Beach Resort, Aruba, this July has been awarded the first-ever AHATA Impact Award for Environmental Protection. The Aruba Hotel & Tourism Association (AHATA) created this awards program to recognize responsible companies that prioritize the investment in and improvement of Aruba's community.
An independent jury of five professionals reviewed 37 impressive submissions dedicated to creating a positive impact in the community. AHATA accepted detailed entries for its four pillars of sustainability: Environmental Protection, Charitable Investment, Champion for Culture, and Employee Well-being.
Bucuti & Tara's Owner and CEO, Ewald Biemans, has always believed in involving guests in our sustainability journey. Following our Travelife Gold recertification, we hosted our monthly beach clean-up, where guests and staff joined forces. This tradition keeps our home on Eagle Beach – one of the world's "Dream Beaches" – pristine and a sanctuary for marine life, including the endangered Leatherback sea turtles.
At Bucuti & Tara Beach Resort, Aruba, we've proved that luxury and sustainability can go hand in hand. So, join us on our journey to create a healthier, greener, and more beautiful world – one unforgettable vacation at a time.