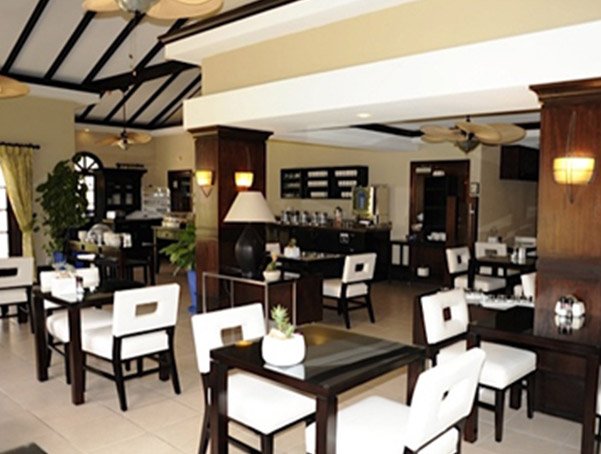 We are often asked why we do not offer all-Inclusive vacations and the answer is simply that we do not want to limit a guest's experience, but rather enhance their stay by allowing them to select the restaurants that suit their personal taste. We have found that many of Bucuti's repeat guests are seeking a diverse selection of culinary experiences. So while we welcome guests to enjoy dining with us at the resort, and offer delicious options on property, we also encourage them to sample and enjoy many of the unique restaurants on the island with our Dine Around Plan. For $39 a person, you can enjoy a 3-course dining experience at one of 15 restaurants that are members of the prestigious Aruba Gastronomic Association.
On-site at Bucuti guests can start their morning off right by enjoying the complimentary breakfast in our newly renovated and air-conditioned, Tara Lounge, featuring a full American breakfast buffet. The dining terrace also serves breakfast, lunch and dinner and is the perfect place to relax with the backdrop of a beautiful beachfront setting. The menu encompasses an extensive American buffet breakfast as well as an à-la-carte lunch menu. In the evenings, guests delight in dishes ranging from freshly caught seafood and juicy prime steaks on our dinner menu accompanied with the perfect selection from our extensive wine list.
For those guests arriving late in the evening to Aruba, we recommend pre-ordering a dinner from our Late Bites menu to be delivered to your room. To pre-order and for menu details, simply email concierge@bucuti.com with 24-hours notice. For those early risers on the move to catch a morning flight or an early excursion, we recommend pre-ordering breakfast to be delivered to you in-room. Our concierge can make arrangements for you the afternoon prior at no charge.
If a romantic experience is what you are seeking during your stay we offer a number of ways to create a memorable dinner date. For example you and your loved can enjoy an intimate dinner for two in a private cabana set on the powder white sand beach. This dining experience offers a specially crafted menu in an idyllic setting. As a matter of fact, a new menu is being crafted by our chef this month. Reservations must be made in advance and are provided on a first-come, first-serve basis.
For a special date night, you can arrange to dine and enjoy a movie on our pristine beach every Thursday and Saturday at 8 p.m. Featuring a delicious 3-course menu served with a half carafe of wine, this option offers options including a Caesar salad or pastry pillow with smoked mozzarella and roasted rainbow peppers; Grouper filet with citrus ginger sauce or Cajun chicken breast with tangy medium fiery salsa. Of course let's not forget desserts such as New York style cheesecake or mango crème brulée.
Open-air or air-conditioned, casual, or elegant the dining options are endless here in Aruba and we'd be happy to arrange any of the services described, make reservations for you at restaurants, or customize your meal plans at Bucuti. Of course, our concierges are available to assist with recommendations and reservations during your stay. Please contact them atconcierge@bucuti.com at any time.
Bon Appetit!
Ewald K. Biemans
Owner & CEO