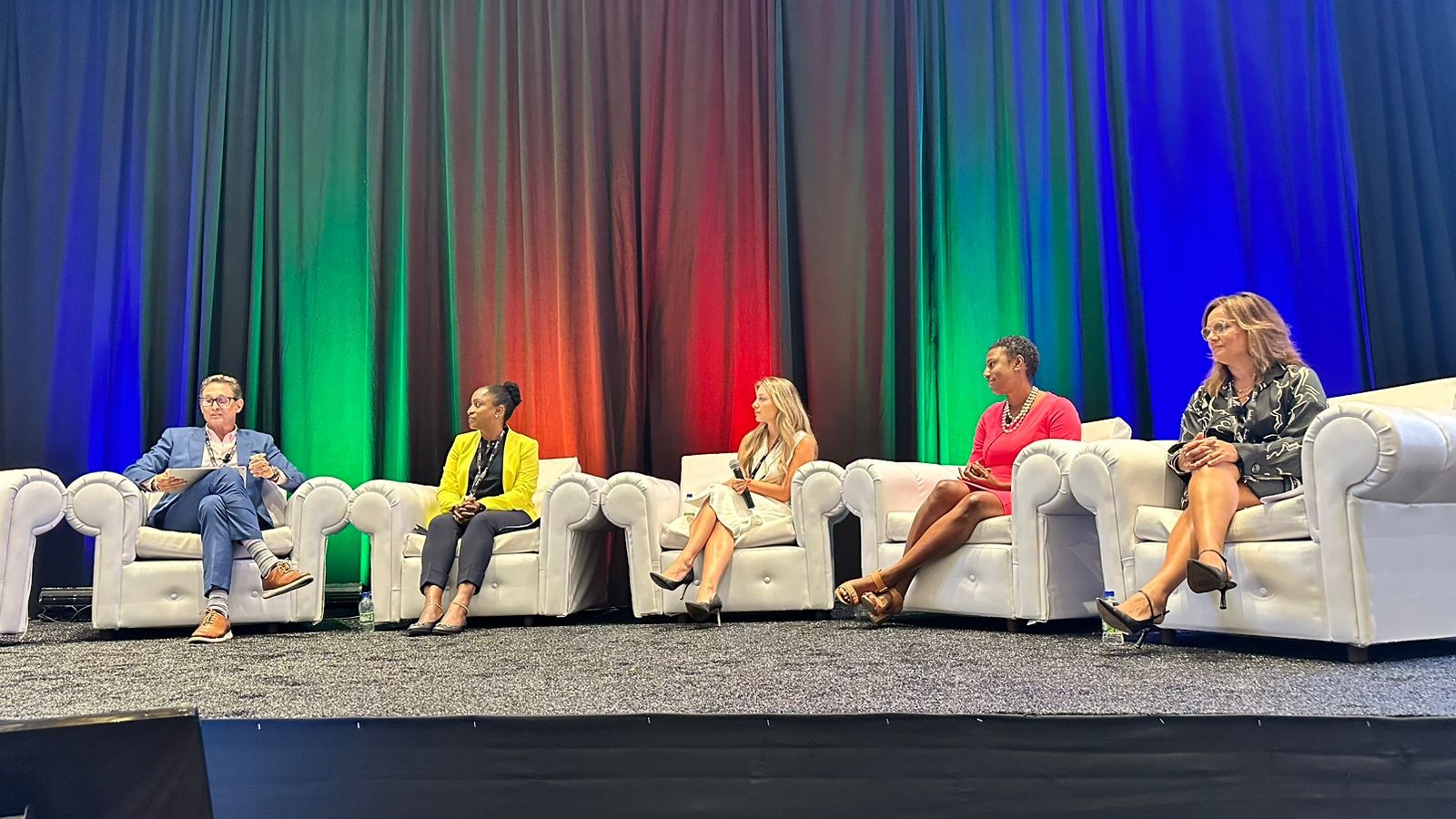 The Caribbean Hotel & Tourism Association Marketplace Conference
May 9-11, 2023, Barbados
As active members and sponsors of the Caribbean Hotel & Tourism Association, leaders in our organization participate in the annual Marketplace conference including the Caribbean Travel Forum. The Forum provides interesting topics, speakers, and panelists to present and discuss the most pressing matters effecting Caribbean Tourism. This year, Crescenzia Biemans was asked to participate in a session called:
Responsible and Resilience Tourism
Topic: Positive Mind Change = Positive Climate Change
The session focused on impactful and innovative ideas and solutions to drive responsible and resilient tourism with an emphasis on human capital development. A statement, followed by a question was asked of Crescenzia and below was her message to the conference:
Moderator Kyle Mais, the General Manager of the Jamaica Inn: "You didn't start the fire, we did...speaking personally, I am not very proud of our environmental legacy but I think we have finally woken up and for that, we must give your generation a lot of credit.
Question: Speaking of which, your family's property is leading the way in carbon emission reduction and has actually achieved a zero footprint. Tell us a little about this and the great things you are doing and how are you doing to reverse the mess we have created?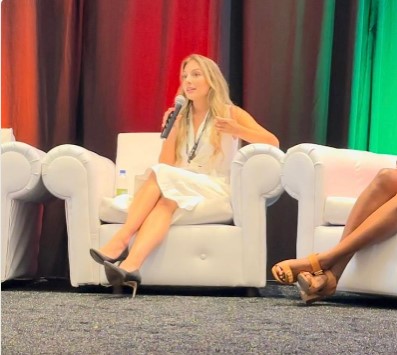 Crescenzia: Thank you, Kyle, and it's a great honor to be speaking on this panel today. At Bucuti & Tara Beach Resort, we are extremely proud to be the Caribbean's first and only certified carbon-neutral hotel. And I really think that the history of how we became carbon neutral is relevant because it shows how small changes over the years can lead to big changes and then even bigger impacts.
In most cases, every inspiring tale of triumph is often traced back to a visionary pioneer, someone who possesses the courage to dream big and break free from conventional boundaries.
It all started with my grandfather, Ewald Biemans, who many of you already know, and his love for nature. He was born and raised on a farm and that is really where his connection with nature began. Then when he first visited Aruba in the 1960s, he just fell in love with this island paradise. It was just pristine, white beaches, clear beautiful water, palm trees and a population of about 50,000 people. When he finally moved to Aruba in the 1970s, the government was trying to incentivize the construction of more and larger hotels to boost the island's tourism industry. The excessive development led to a significant decline in the natural resources of the island, because of course it required more infrastructure, more people to work, more people to visit.
So seeing this really impacted him. He decided that he would do things differently: build smaller, more mindful and taking natural factors into consideration. That was one. Then already in the late 80s we started banning single-use plastics - cups to be more specific, and we have a German guest to thank for this. Then in 1992 he went to the Rio Earth Summit, and this really put the impact of global warming into perspective and the need to do something about it already then. He implemented an energy-saving program, which not only reduced his energy consumption but also made him more resilient against threats such as the increasing prices due to the oil crisis. And in the years following the environmental program grew.
In 2004, we first became Green Globe certified, and today we are Green Globe Platinum, LEED Gold, Travelife Gold and Carbon Neutral Certified. each certification has worked as a guideline and helped us build our extensive sustainability program.
Today we have the island's largest private sector solar panel installation, we divert 65% of our waste from the island's landfill by reducing, reusing and recycling as much as we can, we save 3.5 million gallons of water each year and we continue to focus on reducing our carbon emissions. Currently, we are focusing on becoming Net Zero or Carbon Negative. My grandfather founded the Bucuti Tara Nature Preserve in the bustling area of Noord in Aruba and we are currently reforesting 120.000 square meters of land which will serve as a carbon sink.
And while it takes a visionary leader to lead such a program, it takes a village to implement it and ensure its success, so we are so grateful to our staff that makes it all possible. We have made it a priority to educate our staff and guests about sustainable practices and the impact of their actions on the environment. We provide training to our employees on waste reduction and energy conservation techniques and encourage our guests to participate in our sustainability programs, including beach clean-ups and our Pack-For-A-Purpose initiative.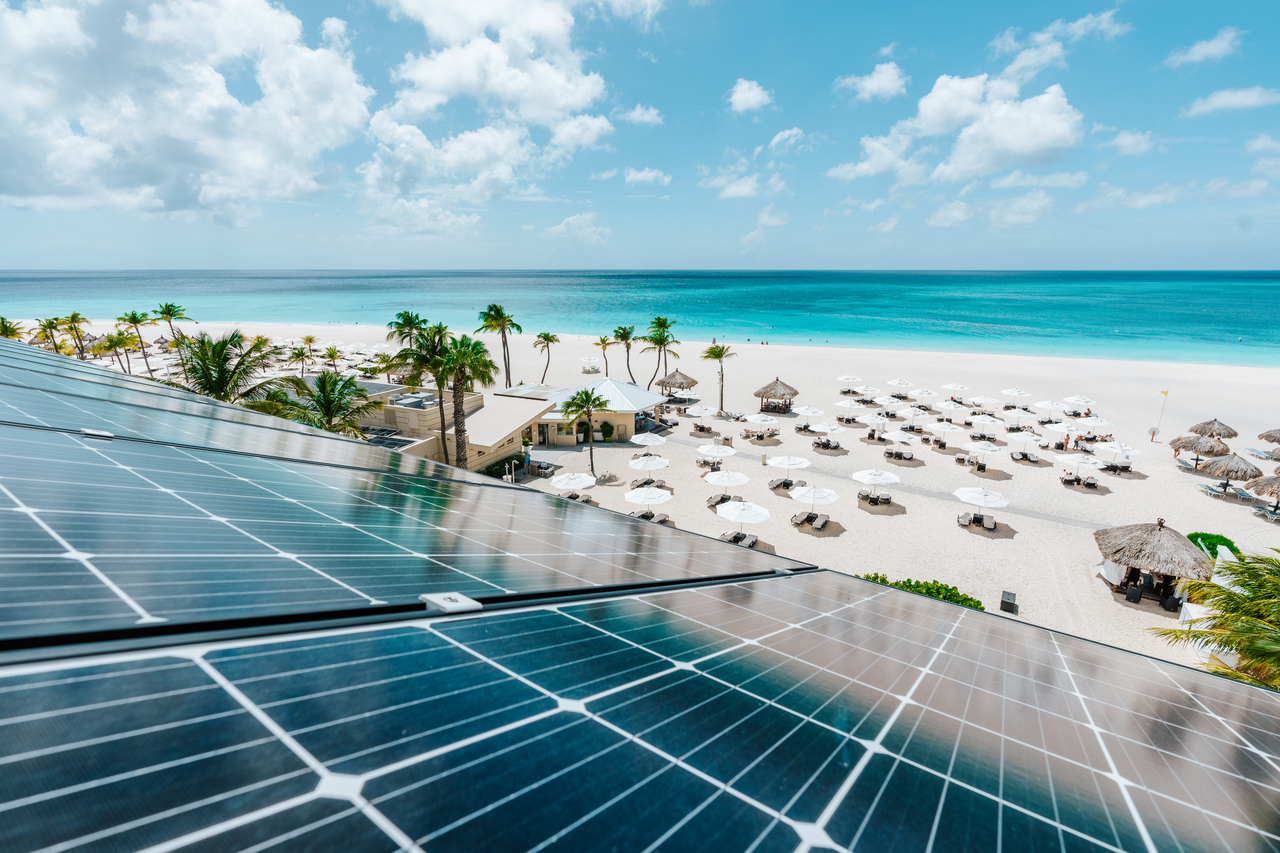 Achieving carbon neutrality has been a challenging but rewarding journey for us at Bucuti & Tara. It has required a significant investment of time, resources, and dedication from our team. However, the benefits have been significant, both for our business and the environment. In 2020 we were the first and only resort in the world to have been awarded the United Nations Climate Action Now Award because our program is scalable and replicable for any business, meaning anyone could replicate our program and have the same or similar results. So if there is any takeaway that I hope you have from this presentation, it's that you too can make a change and we want you too to embark on this journey with us. We don't want to be the only carbon-neutral hotel in the Caribbean so we would love to share all of our resources with you, because as Caribbean islands we all need to make a change.
What are your future plans?
We are focusing on becoming Net Zero or Carbon Negative. Which is where you remove more CO2 from the atmosphere than you produce. Mr. Biemans founded a nature preserve of 120.000m2 of property land that we will be reforesting.
Final Thoughts:
Overall, we believe that sustainability is not only the right thing to do, but it is also a smart business decision. By investing in sustainable practices, we can reduce our environmental impact, create a more resilient business, and provide a better experience for our guests. We are proud to be a leader in the Caribbean hospitality industry in this regard and hope to inspire other businesses to join us in the journey towards a more sustainable future.