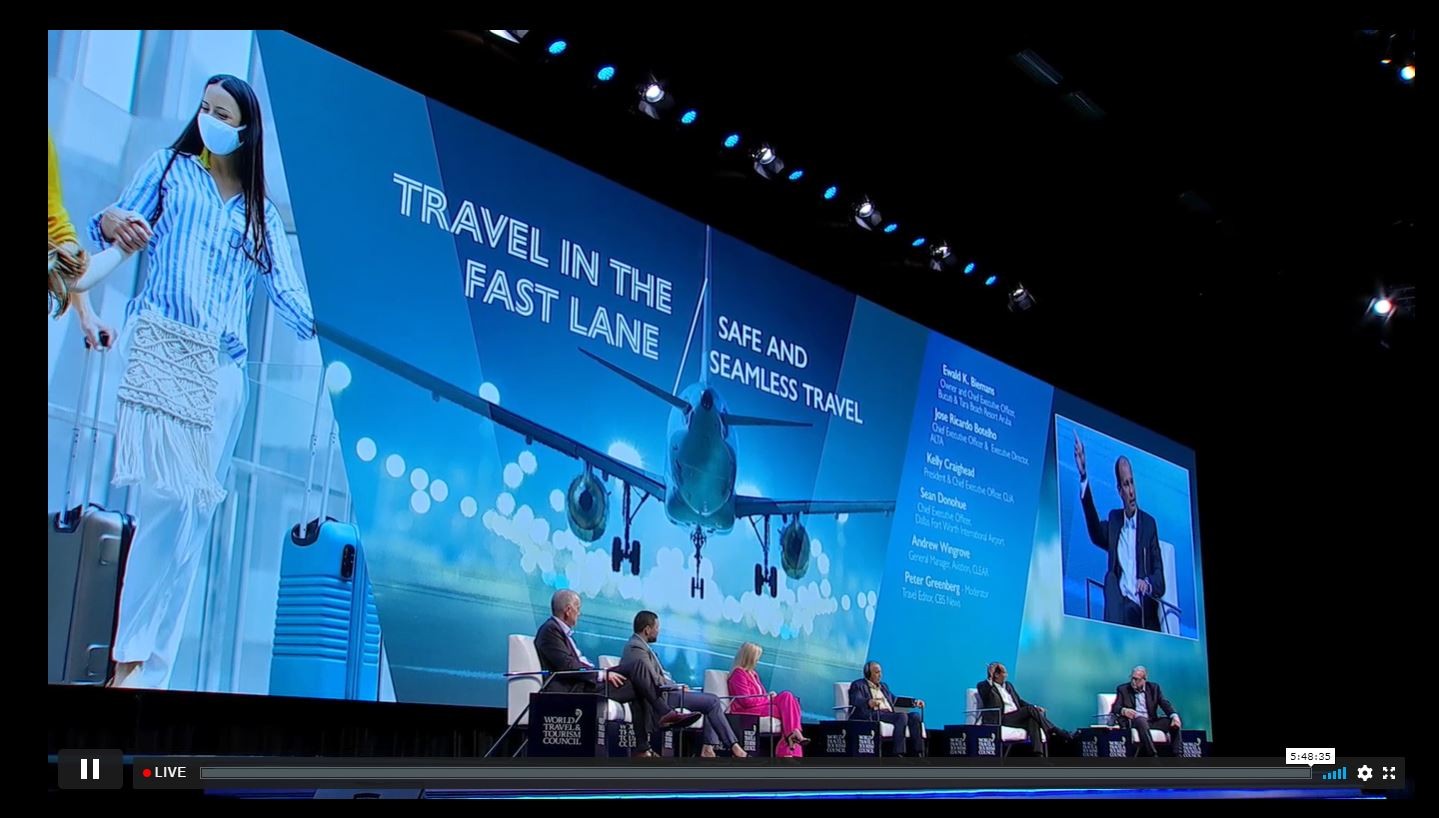 The return to travel is underway with sage advice from the world's trusted hospitality experts at the World Travel & Tourism Council's Global Summit 2021. Ewald Biemans, owner and CEO of Bucuti & Tara Beach Resort in Eagle Beach, Aruba, spoke on the mainstage session yesterday as a panelist.
The World Travel & Tourism Council (WTTC) themed this year's event "Uniting the World for Recovery" for its 20th Global Summit. which took place April 25-27 in Cancun, Mexico, the highest-level industry leaders met with key government representatives to take action on the biggest and most important issues across the international agenda. This year, the Global Summit explored challenges ahead and providing a platform for the recovery of the sector.
Yesterday's panel was "Travel in the Fast Lane: Safe & Seamless Travel." The discussion centered on the current sentiment that 45% of passengers are ready to discard their paper passports and use biometric identification instead. Digital identity and biometric identification are rapidly rising in importance. This is combined with an acceleration of innovations in health and safety, ranging from thermal imaging to electrostatic sprays. As the sector redoubles its efforts to provide a safe and seamless traveler experience to rebuild traveler confidence, the discussion focused on new health requirements and integrate testing ahead of a vaccine, while ultimately moving towards a contactless traveler journey.
The discussion was moderated by Peter Greenberg, the travel editor for U.S.-based CBS News. Panelists shared their in-depth experiences and views. The panel included:
● Ewald Biemans, Owner/CEO, Bucuti & Tara Beach Resort, Aruba
● Sean Donohue, Chief Executive Officer, Dallas Fort Worth International Airport
● Kelly Craighead, President & Chief Executive Officer, CLIA
● Jose Ricardo Botelho, Chief Executive Officer & Executive Director, ALTA
● Andrew Wingrove, General Manager, Aviation, CLEAR
Introduced as conquering the ambitious achievement of CarbonNeutral® certification for his own Bucuti & Tara Beach Resort, Biemans elaborated on Aruba's success in providing a seamless, healthy, quick, and forward-thinking environment to provide a safe place for travel and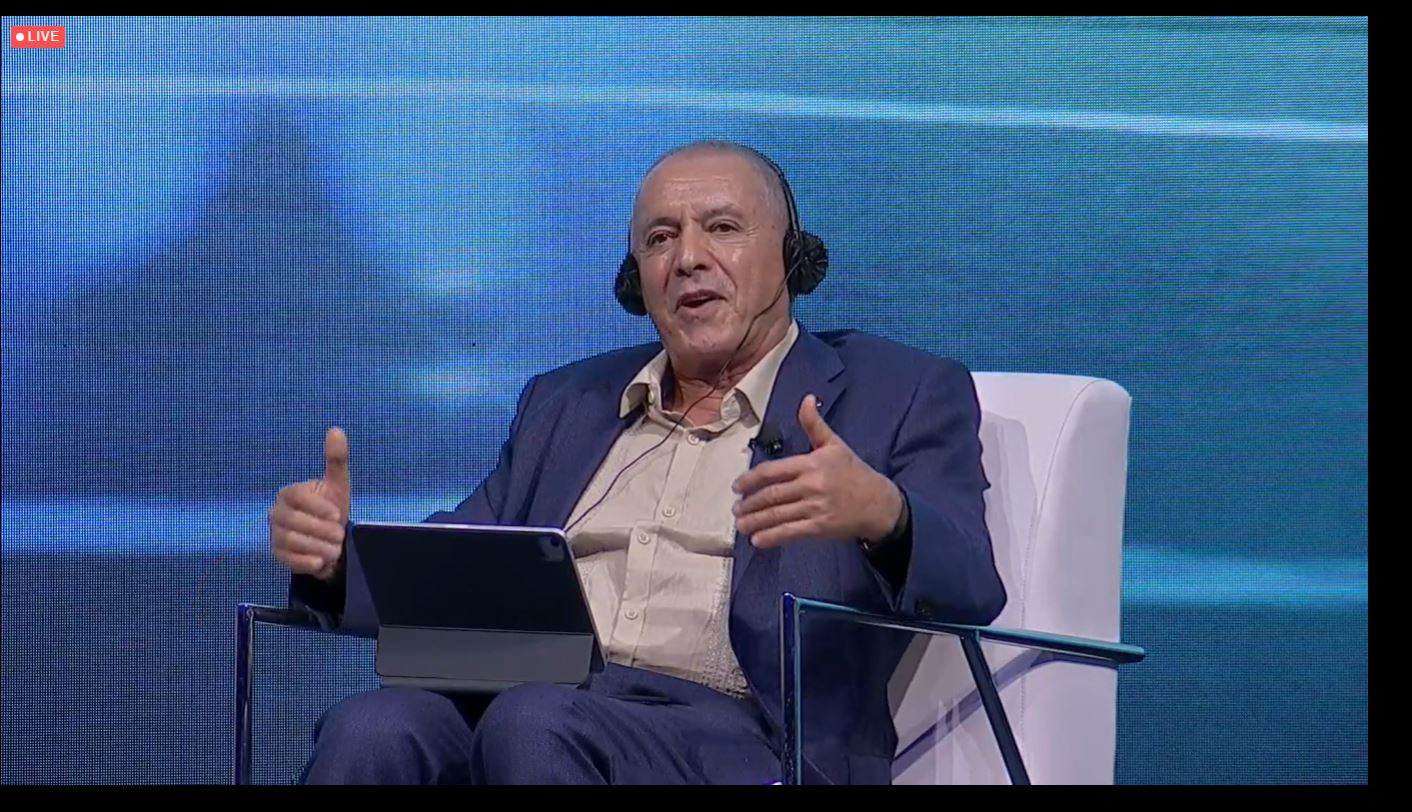 tourism. Moderator Peter Greenberg recounted his visit to Aruba years ago and discussions with the Aruban government about becoming carbon neutral. Biemans recounted the challenges and how the government has overcome them to renew their commitment and plans to become carbon neutral by 2050.
What does the future of travel hold for you?
The three-day annual conference featured speakers and attendees from around the world including 20 heads of state, ministers of tourism, hospitality CEOs and industry experts. More than 650 attended in person with thousands more online.
Throughout the conference, the message was clear: the world has awoken, and tourism is back! Travel is new and improved, and there's no going back to pre-COVID-19 ways. Key takeaways include:
Vaccination programs are well underway globally. Aruba is in the top five with more than 40% of the population vaccinated
Global health passports are in the making
Travel is evolving at light speed. Safer, technologically advanced and industry-wide organized efforts are coming together to protect travelers and will continue to be nimbler in the future.
Sustainability and conservation are being integrated into hospitality globally in a profound and meaningful way
Travelers' reconnection with nature over the past year is continuing. They are expressing a desire to incorporate nature and conservation into their upcoming travel plans.
Technological advances to enable seamless travel with biometrics and other no-touch systems for security and safety are paramount.
Finally, there is an ending to over-tourism. Travelers are already seeking less crowded, less overbuilt locales as they continue to cherish wide open spaces.
As we continue to welcome back guests, we look forward to you enjoying Bucuti & Tara's promise of peace, love and happiness...naturally.
A link to yesterday's discussion can be found here at the 5:28:30 mark.