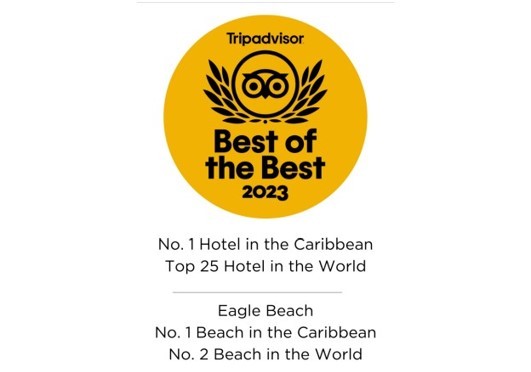 We are overjoyed to announce that the annual 2023 Tripadvisor Best of the Best Awards have been announced, and we have once again secured top recognition with our position as the No. 1 Hotel in the Caribbean and the No. 18 Best Hotel in the World.
Not only that, but we are also incredibly proud to be the only Caribbean hotel named among the Top 25 Hotels in the World. It's an extraordinary honor that fills us with immense pride and gratitude.
For the past 16 years, Bucuti & Tara Beach Resort has consistently made it to the coveted Best of the Best list, with the last seven years being crowned as the No. 1 Hotel for Romance in the Caribbean. We are humbled to be the only resort to have achieved this remarkable feat, and it's all thanks to our dedicated team who work so hard every day to deliver an experience which our guests can enjoy for a lifetime.
Tripadvisor's rigorous analysis of 12 months' worth of review data from 2022, covering over 1.5 million hotels, ensures that only the highest-rated accommodations receive the Travelers' Choice Best of the Best Hotel Awards. With less than 1% of Tripadvisor's 8 million listings being awarded the Best of the Best distinction, we are truly humbled to be recognized for our unwavering commitment to excellence in hospitality.
Tripadvisor has also acknowledged our efforts to create an eco-friendly environment by certifying us as the Caribbean's first carbon-neutral hotel. Describing Bucuti & Tara Beach Resort as an eco-friendly haven, they highlighted our tranquil boutique experience and friendly service.
And that's not all! We've also earned another prestigious accolade: our beautiful home on Eagle Beach has been named the No. 1 Beach in the Caribbean and the No. 2 Beach in the World by Tripadvisor. The tranquil stretch of sand, the calm waters, the ideal setting for intimate weddings, and the opportunity to witness nesting and hatching sea turtles have all contributed to this incredible recognition. Check out our Bucuti & Tara Sea Turtle Nesting Calendar 2023 for a glimpse into this awe-inspiring experience.
As we move forward, it's evident that wellness is a top priority for travelers in 2023. Hotels set in relaxing Caribbean destinations, like ours at Bucuti & Tara, offering authentic and highly personalized wellness programs, have emerged as favorites among travelers seeking rejuvenation and holistic experiences. We are thrilled to be able to provide our guests with this wellness-focused environment and exceed their expectations.
Reading reviews from our real guests on Tripadvisor fills us with immense joy and gratitude. We are proud to hold the highest 5.0 bubble rating on the global platform, with guests describing their Bucuti & Tara experience as "amazing," "phenomenal," "the island vacation of a lifetime," "blissful," and praising our exceptional team and property. One review even humbly claimed that we were the best-kept secret in Aruba. We are truly touched by the heartfelt words of appreciation from our guests, and we strive to continuously deliver unparalleled experiences.
We extend our heartfelt thanks to all our guests who chose Bucuti & Tara Beach Resort for their memorable vacations and took the time to share their detailed reviews on Tripadvisor, now totaling over 8,700 reviews. Your opinions hold tremendous power, and we are grateful for the inspiration and confidence you provide to fellow travelers in making their informed vacation decisions. We would also like to express our gratitude to our resort leadership and dedicated Bucuti Associates, whose unwavering dedication and professionalism have made us the best in the Caribbean and one of the world's top vacation destinations. It is truly an honor to represent Aruba on this global stage.
If you want to learn more about our award-winning resort and plan your unforgettable vacation, I invite you to visit our website at Bucuti.com. We can't wait to welcome you to our little slice of paradise and create lifelong memories together.