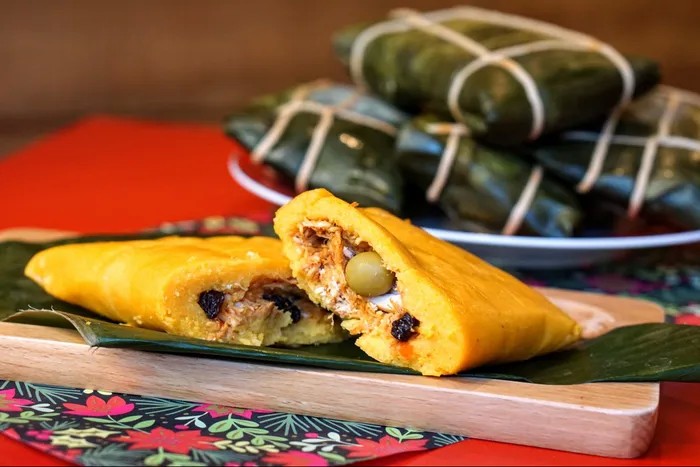 Here at Bucuti & Tara's Elements restaurant, preparations are underway for a traditional Aruban Christmas feast. We always hope you can join us, however, if you're home, we want to share with you one of our treasured seasonal favorites, ayacas. Making ayacas is always a great reason to reunite with the family. There is no Christmas for Arubans without ayacas. They consist of a layer of polenta-like corn dough filled with seasoned beef, pork, or chicken, raisins, olives, capers, peppers and onion; and wrapped with banana leaves. The kitchen is made into a production line with each ingredient added with love and the festive ambiance, filled with music and laughter overflows with holiday spirit.
If you would like to try this yourself, here is a typical local recipe for chicken ayacas - large quantities are typical, and families make and freeze ayacas to use throughout the holidays. Here is a recipe for about 40 ayacas.
Ingredients:
6 lbs of chicken.
1 lbs chopped bacon
2 onions, sliced in rings
8 green peppers, sliced in strips
1 cup green onions, chopped
8 garlic cloves, finely chopped
1 tablespoon oregano
2 tablespoons salt
1 tablespoon cumin
3 cloves minced garlic
1 tablespoon ground pepper
1 1/2 bottles (25.4 oz) red cooking wine
12 lbs plantain leaves
3/4 cup vegetable oil
1 bottle of capers
1 can tomato paste
1 tablespoon of cumin
3 tablespoons of sugar
1 teaspoon garlic powder
Piccalilli sauce to taste
chopped celery
40 prunes
80 cashews
80 green olive
40 pickles
hot pepper (to your preference)
salt and pepper to taste
Dough
2 lbs yellow cornmeal or flour
1 1/2 cups of milk
1 1/2 cups of water
1 teaspoon of salt
5 cups chicken stock
1 cup pork butter (or bacon fat)
1 1/2 cups butter
1/2 cup ground annato (ruku)
Preparation
Filling:
Remove the skin and the bone from the chicken and cut the chicken into small pieces.
Place the chicken in a large cooking pot and season it with oregano, cumin, garlic powder.
Add the garlic, sugar, and celery.
Simmer on medium-high heat, add vegetable oil and butter. When the chicken is opaque, add the tomato paste and sugar and simmer. Add water if needed.
Add salt and pepper to taste.
When fully cooked, remove from heat and let the chicken cool.
Prepare banana leaves:
Wash the banana leaves thoroughly with water.
Clean the leaves well with water and then dry them with a dry towel.
Sort the leaves in two sizes :

A larger piece where the dough will sit. It should be about 12x12 inches
A smaller piece that covers the folded larger piece. It should be around 10x8 inches and protects the acaya while it is cooking.

Remove the hard center stem of the leaf because it will prevent them from bending.
Boiling the leaves for about 2 minutes is recommended to soften them to make them easier to fold.
Dough:
In a pot on medium heat and add the butter and the annato. Melt the butter and allow the annato to render its color in the butter.
Remove from heat and let cool.
In a large pot, add the cornmeal or flour and slowly add the chicken stock on medium-high heat.
Little by little, add the butter and the annato from the first pot into the larger pot.
Let the content simmer and add chicken stock as needed. Add bacon fat and stir with a wooden spoon.
Knead to a soft consistency, Remove from heat and let it cool down.
Divide into 40 balls of dough and let it sit. The dough balls need to form 8 to 10 inch circles at 1/4 inch thick when flattened.
Assembling the ayacas:
Make sure banana leaves are dry.
Apply oil on the inner side of the larger banana leave.
Put the dough ball in the middle and flat it down to a circle about 1/4 inch thick.
Add 1.5 large cooking spoonfuls of the cooked chicken and sauce.
Add two onion rings.
1 strip of green pepper
2 capers
2 green olives
1 teaspoon piccalilli
1 prune
2 cashews
A piece bacon
1 slice of pickle
Add hot pepper if desired in some of them and separate.
Folding banana leaves :
Assembly: Place one ball of dough in the middle of a leaf. Extend the dough in a circular motion with your hands until it is of a 1/4 of an inch thick. Add one and one half large spoonful of meat and sauce in the center of the dough. On top of the filling, place 2 onion rings, 1 pepper strip, 2 capers, 2 olives, 2 cashews, a prune, piccalilli and a small piece of bacon.
Continue folding the leaf. Take the wider edges and attach them upward. Create a fold until it is completely sealed. Fold the other two ends towards the inside and wrap it with the smaller leaf. Tie the ayacas with the previously cut yarn or twine (of approximately 3 feet and a half length). Cross them three times in each direction (horizontal and vertical) and close with a knot or bow.
Cooking :
In a large cooking pot, add enough water to cover them.
When it starts to boil, lower it to medium heat and put the ayacas in the boiling water.
Let it boil for 1.5 hours. Let them cool down and then you can refrigerate them or freeze them.
To reheat, boil them for about 20 minutes and then serve.
And finally, enjoy!