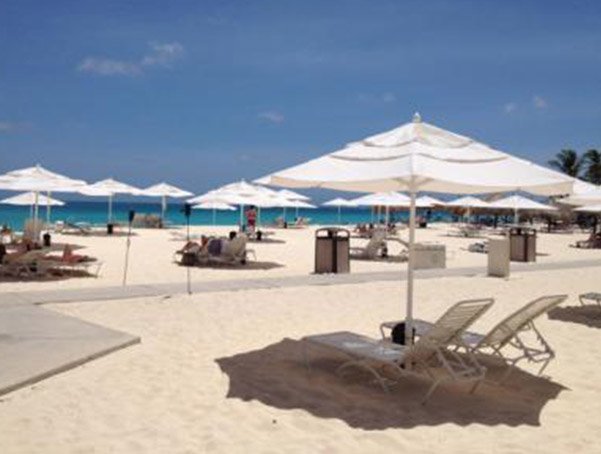 Don't Miss Out on Learning about Aruban Culture
Learn more about the Aruban Culture through our local festivals. Every Tuesday at 6:30 p.m. the Bon Bini Festival is held in Oranjestad. "Bonbini" means "Welcome" in Papiamento, and is the perfect way to experience the flavor of the island. Later in the week every Thursday at 6 p.m. the Caribbean Festival is held in San Nicolas. The festival highlights the Caribbean cultural heritage of San Nicolas through folkloric dance performance and displays of local arts and foods.
Do Take Some Time for Romance
Aruba is an incredibly romantic destination that offers an ideal setting for couples. Take some time to enjoy a unique 3 course dinner experience in a private palapa on the powder white sand of Eagle Beach. Sunset Dinner starts at 6 p.m. and Dinner Under the Stars starts at 8.30 p.m. Both options offer a perfectly romantic ambiance. The price is $185 per couple (including a bottle of wine or champagne) and reservations need to be made ahead as seating is limited.
Don't Forget to Get Out and Explore
While some destinations do not encourage guests to journey beyond their resort grounds, visitors to Bucuti are encouraged to get out and explore Aruba. We are proud to boast many beautiful beaches, historical sites, Arikok National Park, which encompasses nearly 20 percent of the island, a wide variety of restaurants, an exciting nightlife scene as well as some great shopping. Our concierge desk will be happy to help you plan activities throughout your stay, advise on the best ways to get from place to place and even provide you with snorkeling gear for under-water exploration.
Taxis are available directly at our resort and provide the easiest way to get to Palm Beach and Oranjestad. The ride is approximately 10 minutes and about a $9 fare each way. A second option is to take a bus. Buses run every 15 minutes during the day and every 40 minutes after 7 p.m. Tickets can be purchased onboard and the fare is $1.30 one way and $2.50 round trip. Note that you will not need exact change but only small bills will be accepted.
ATVs, motor bikes and bicycles are not the safest way to travel, and we do not recommend them. Nor do we arrange for Parasailing. If you are looking to get adventurous and explore the island renting a car is a far better option. You can rent a small economy car starting $42 per day (24 hours). Make sure you do not leave any valuables in the car when you have parked somewhere unattended and always lock your doors.
Do Try a Jeep Tour
If you're looking to explore Aruba in a way that is both fun and informative then a Jeep Tour is the way to go. The tour offers you the opportunity to see the whole Island in one day including a visit to the National Park to explore the beautiful flora and fauna and learn about the Indian caves.
Don't Get Disconnected
Long distance calls from Aruba can be very costly starting at $3 a minute or more and roaming fees can add up. As an alternative we encourage you to take advantage of our complimentary iPads for use throughout your stay with free WiFi. Upon connecting you can place VoIP calls to other computers, landlines and cell phones utilizing your Skype account or similar service. Also be sure to disable the "data roaming" feature on your mobile device to avoid additional incurred fees. Should you decide to use the long distance call system be aware that after 45 seconds the first impulses are charged even if the call is not answered at the other end.
Do Note that We are a Cashless Resort
Our resort no longer accepts cash for payment at the front desk or the restaurant. If you do bring cash for other purchases on the island, there is little to no need to change your currency into Aruban Florins (AFL). U.S. Dollars are widely accepted in small denominations throughout Aruba. Travelers Checks and Credit Cards are also accepted in most venues. Euros have to be exchanged at a local bank. Also please note that car rentals may ask for a substantial deposit, if you are not in possession of a credit card.
Don't Let the Sun Burn You Out
As there is generally a nice breeze in Aruba people tend to forget about the effects of the strong Caribbean sun. It is very important to use sunscreen whenever you are going to be outdoors, even when the sky is overcast, and to reapply throughout the day. Use extra care between the 10 a.m. and 3 p.m. and be mindful that the ocean waves reflect the sun's strong rays.
Be sure to stay hydrated throughout your stay by drinking plenty of water. To make this easy we will provide you with one of our signature Bucuti water canteens.
Do Be Prepared for our Warm Water
Aruba is home to the second largest saltwater desalination plant in the world making our tap water perfectly safe and delicious to drink. Some have even referred to it as the "champagne of the Caribbean". As a result of the distillation process the water is always lukewarm. Due to our consistent warm temperatures and water pipes that are laid close to the surface, showers and faucets do not supply cold water. Cold water for drinking is available in water coolers around the property.
Don't Forget to Use Caution
Fortunately Aruba is a safe place. However, regardless of the overall level of safety, no destination is immune to petty theft. Some simple prevention on your part such as the following can help to avoid having an incident hinder your stay.
Store your valuables in one of the free safes provided to you at the resort
Never leave valuables such as bags, cameras and other personal belongings unattended on your balcony, outside on the property or in a vehicle
Lock doors and windows in the evening or when you are not present in your room
We do not recommend renting jet skis, parasailing, motorcycles, ATV's etc., but if you choose to do so, please use caution and ensure you are dealing with a reputable, insured vendor
Travel Insurance is recommended including Medical, if your homeowner's policy does not include travel abroad.

Do Join Us Online and Share Your Experience
Year after year we are delighted to welcome guests back to Bucuti as they celebrate anniversaries, engagements, weddings or simply spending time together. We always look forward to your return and are proud to share in your vacation experience. To keep up-to-date on the latest happenings here at Bucuti and connect with members of the Bucuti family be sure to find us on Facebook and Twitter.